Latest Episode | Cut To The Race Podcast
Jim Clark may not be a name familiar to new Formula One fans but he was one of the greatest there ever was.
If you're unfamiliar with Jim Clark, be prepared to read about an incredible racer. Not only has he got some of the best statistics of any Grand Prix driver, but he is also remembered as one of the nicest, most humble people to grace Formula One.
Unlike many drivers today, Jim Clark grew up outside of motorsport. Clark was always a sufficient sportsman who was handy with games at school but had never tried motorsport.
After passing his driving test, Clark began racing in local events just for fun. Unsurprisingly, now that we know what a great racer he was, he won them and proved dominant from his first couple of races. His parents were not pleased that Clark wanted to pursue his new passion; they feared for him. Clark said it was the encouragement of friends that kept him in the sport during the early years.
Entry into Formula One
A chance meeting at a Brands Hatch race proved fortunate for Clark as he raced against and came second to none other than Colin Chapman. Chapman, the founder of Lotus, kept Clark on his radar. After competing in a few more events, Clark was offered a drive in the new Formula Junior series.
Clark won the first race of the Junior season in March 1960. He beat another icon and future F1 Champion, John Surtees, to victory.
In June 1960, Chapman promoted Clark to the Formula One team to replace Surtees at Zandvoort. Clark's first Formula One race resulted in him retiring the car.
A year later, Clark still wasn't having an easy ride in the sport. Despite clearly being natural, he was suffering from bad luck and awful circumstances. He was involved in a horrific crash at Monza in 1961 which killed one driver and 15 spectators.
This crash, one of the worst in history, was another wake-up call to Clark that he was driving in a dangerous sport. His first wake-up call happened a year earlier in only his second race. It was at the Belgian Grand Prix where he saw two drivers involved in fatal accidents. These two incidents, paired with the lingering feeling that his family didn't want him to race, could have been enough to stop Clark.
Clark did, however, continue to race and as we know by now, did very well. This may be why he could possibly be one of the best racers of all time. Despite all the things mentally blocking him, he got over those hurdles to become a double world champion.
First championship
Clark won his first drivers' championship with Lotus in 1963. He did this by winning seven out of the ten races of the season. This record has since been equalled and broken by a number of drivers. For example, in the late 80s by Prost and then Senna. These records were broken, however, when there were at least 14 races in a season. This means statistically, Clark's wins in 1963 are much more meaningful, covering 70% of the season.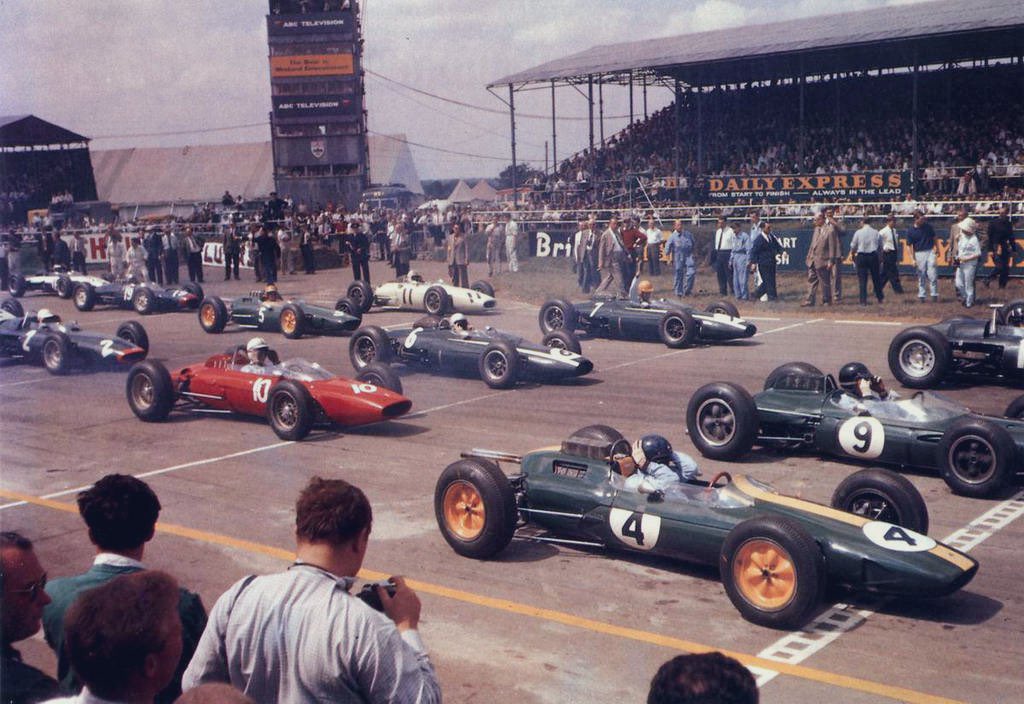 By modern standards, the dominance of Clark's first championship is comparable to Sebastian Vettel's 2013 season, which ended with a nine-race winning streak and saw him win 68.42% of races that year. Clark's single-season winning percentage was bested by Michael Schumacher in 2004, when the German driver won 13 of 18 rounds – a cool 72.2% of the calendar.
Second championship win
Jim Clark didn't manage to retain his title the following year due to mechanical problems with his car. Surprisingly, the victory went to John Surtees that year. Surtees, as you can tell by now, was a familiar name during Clark's career.
Clark managed to win his second championship in 1965.
Other Motorsport endeavours
Other than being a two-time World Champion with 25 Grand Prix wins, it was the extra motorsport events which made Jim Clark a true legend.
During his 1965 championship year, Clark also competed in the Indy 500 (trying to beat his last attempt where he came second). To compete in the Indy 500, Clark missed the Monaco Grand Prix. Despite missing the Grand Prix, Clark went on to win the series. What's even more impressive is that the championship only consisted of ten races so missing one really hurt his chances.
Clark also won the Indy 500 that year…
What made me warm to Clark the most was learning about his time at the Tasman series in Australia and New Zealand. The Tasman series was a single-seater competitive series using older F1 cars. He won the series three times. He won his first series in 1965 when he also won the F1 World Championship and the Indy 500! How incredible?
1968
Clark looked like he could be on track for another winning year in 1968. He won the Tasman series that year and looked on form. Clark also won the opening race of the 1968 Formula One series in South Africa.
This win took him to a total of 25 which meant, at the time, he was the most successful Grand Prix driver in terms of number of victories.
Unfortunately, Clark suffered a fatal crash in Formula 2 at Hockenheim. The most shocking thing was is that Clark was one of the most careful and controlled drivers there was. He rarely. put a foot wrong and was calculated in all of his racing.
This history of carefulness was what made Clark's death unusual. People debated whether it was 'driver error' or a rear tyre deflation.
Stars of the time, such as Surtees, believed Clark was too good, too skilled to have been at fault for the crash.
Statistics
Statistically, Clark was one of the greats. He won 25 out of 72 Grand Prix. This means he has a win rate of 34.7%. He is currently third on the list for win percentages. He sits behind Fangio and Ascari.
Not only was he a great racer with incredible racecraft. He was mighty quick. He is joint fifth for number of pole positions and is tied with Alain Prost. Considering how many times Clark qualified and how many times he got pole position, it is truly impressive he remains so far up on the list.
Feature Image: FormulaOne.com Sutton Images