Latest Episode | Cut To The Race Podcast
Pirelli have been F1's sole tyre supplier for over a decade, but could the sport benefit from more choice?
I've long felt that Formula One could do with a second tyre manufacturer. Currently, tyres are one of only a few homogenous areas within the sport. Pirelli's exclusivity runs until the end of 2024, but I have fond memories of the Bridgestone-Michelin rivalry from the early to mid-2000s.
Opinion is seemingly split on this. To some, more competition would lead to more durable and racier tyres. To others, it creates unnecessary expenses and isn't conducive to creating an even playing field.
It's something I've spent a lot of the offseason contemplating. As I said, I used to sit squarely in the pro-tyre war camp, but now I'm not so sure…
We haven't had competing tyre suppliers since 2006, and Pirelli have produced tyres for all teams since they re-entered the sport in 2011. To say that this period hasn't been without its difficulties would be an understatement.
Complaints from drivers and fans alike have been commonplace. The tyres have been characterised by the short window in which you can push them, a tendency to overheat and the now infamous 'cliff' when they reach the end of their useable lifespan.
In Pirelli's defence, they've only been meeting the brief set for them by F1. With refuelling banned, the sport wanted high-degradation tyres that had to be managed. The aim was to create multiple strategy options using the range of compounds available to the teams.
Why hasn't it been possible before and why might it be possible now?
Since the start of the Pirelli era, the principal benefit of having a singular tyre supplier has been the ability to manipulate the characteristics of the tyres to produce better racing. The tyres have been neither the most durable, nor the quickest tyres Pirelli could have developed.
Bringing a competitor into the mix would have rendered this approach impossible. How can you create a competitive environment in which the determined parameters mean that neither supplier can produce the fastest and longest-lasting tyres they can?
It just wasn't feasible. A necessary evil, you could say.
However, with the regulations changing for the 2022 season, the brief changed too. More durable tyres were required of Pirelli. Of course, we haven't seen them in action yet, but with the cars now even heavier, and the racing on-track theoretically improved, there has been more scope for Pirelli to create the kind of tyres that the drivers have been calling for.
Although it's solely Pirelli for now, this change creates the opportunity for a second manufacturer to enter for 2025. I'm not saying I want Pirelli to leave, nor that anyone could have done a better job these past years, but it could do the brand some good to compete against a rival.
Are tyre wars a thing of the past?
Not necessarily. There's nothing to suggest that competing tyres won't be a feature in the future. Pirelli may even be open to it, if that was the direction F1 wanted to take.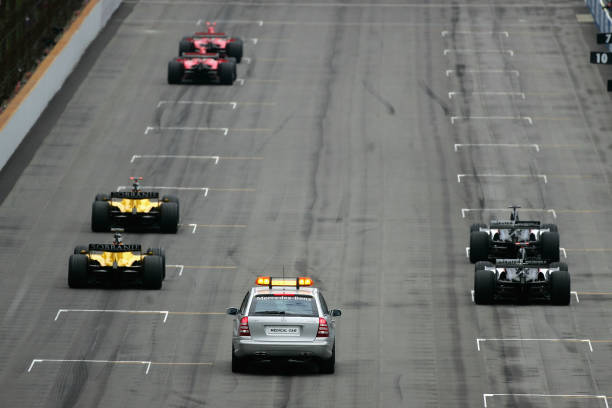 Image Credit: Clive Rose via Getty Images 
However, form would suggest things are trending that way. Prior to 1987, only three seasons had been supplied by one tyre manufacturer (1961-1963). Since then, only 11 seasons have included multiple tyre producers.
What are the pros?
The nostalgic amongst us will remember the unpredictability that came with competing tyre compounds and philosophies. Some weekends, one supplier would be nowhere. Top teams would be fending off midfield cars on the more dominant tyre, and it could shake up the conventional order.
It could be used to even the playing field over the course of a season. It's unlikely that your tyre supplier is the company to be with every weekend of the season. This would have been useful over the past decade, which has seen a Red Bull-Mercedes monopoly on championships.
You could also do away with multiple different compounds, mandatory pit stops and other such rules. Or, if you wanted to, you could lean into them. There are lots of regulatory options here, and the sport could be quite inventive.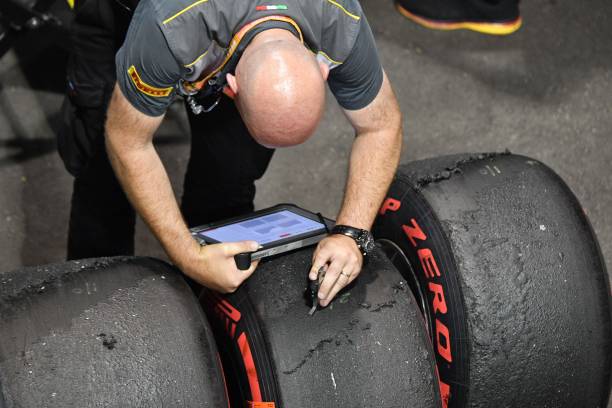 Image Credit: Mladen Antonov via Getty Images
Each manufacturer could create a qualifying tyre and a race tyre or produce a range which tyres that teams can pick from for the weekend. Again, it would certainly provide more unpredictability.
Further still, it cuts to the very centre of what F1 should be about: competition. May the best supplier win. The by-product of that would be the most durable and quickest tyres possible.
What are the cons?
Time heals old wounds. And it's easy to see the past through rose-tinted glasses. It seems that with the most recent tyre war, memory has faded the bad.
The Bridgestone-Michelin rivalry between 2001 and 2006 saw two of the single most dominant seasons in the sports' history. It wasn't all unpredictability and upsets. In fact, in terms of tyre supplier wins, only 2003 and 2006 were even remotely close.
You also run the risk of a repeat to the 2005 US Grand Prix. The Michelin tyres were deemed inappropriate, and the problem could not be fixed without disadvantaging all Bridgestone runners. Therefore, all Michelin users withdrew. This led to a six-car race and a very embarrassing episode for the sport.
Since the mid-2000s, the costs of F1 have escalated greatly. To the point that a budget cap has been implemented. A tyre war would further increase costs, through the need to develop the tyres and through teams pitching to be supplied by their preferred company.
This could lead to an inequality of product, as poorer teams might have to settle for a cheaper, inferior tyre supplier. Even those on the superior tyre might not be spared.
When Bridgestone supplied Ferrari in the 2000s, the Italian team were able to pay more than other Bridgestone users, so received better tyres.
In addition to this, testing was at the very heart of the tyre war. To enhance their product, each manufacturer, and the teams they supplied, would spend considerable sums of money, and a lot of time, to perfect the tyres.
This is completely counter to the ethos and the running of modern-day F1. Now, if you signed with the inferior supplier, you'd be stuck with them for the season, with little hope of improvement.
Why it isn't going to happen
Ultimately, being on the wrong tyre is a risk that most teams are simply unwilling to take. They like having one supplier, as they know that everyone is using the same product.
In 2019, Red Bull's chief engineer, Paul Monaghan, said "In the current generation of Formula 1 then multiple tyre suppliers don't really fit with the model."
He also said: "We don't go tyre testing every week and tyres per se are not a prime performance differentiator so at the moment our current working philosophy, if you like, is to have a single supplier."
Furthermore, the direction of the new regulations is to produce close racing that can be settled on track. There is no guarantee that a tyre war would help this. In fact, it could make it even worse and lead to more strategy-based grand prix – the very thing people have been complaining about.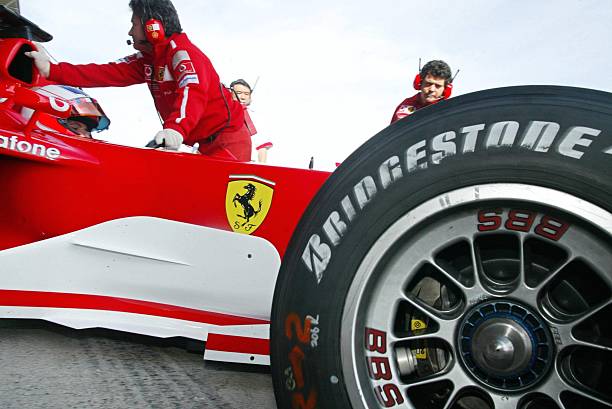 Image Credit: Martin Rose via Getty Images 
There are things F1 could do to make a tyre war more viable than it was in the past. The sport could ensure equal tyres from each supplier. Or legislate the amount that a tyre supplier sells their product for. This would mean each team is treated the same and has a truly free and even choice between suppliers.
However, this still doesn't avoid the issue posed by testing and being stuck on a bad tyre for a whole season, which could be the main sticking point.
Why I'm okay with it
For me, the biggest reason why we won't see a tyre war is that Pirelli have addressed the concerns about their tyres. Whilst we're yet to see the new compounds in action, they have been designed to produce "less overheating, and less degradation", as confirmed by Pirelli's head of motorsport, Mario Isola. So, let's give them some time.
It's easy to look back at the past and idealise how things were, but there is a real risk that a tyre war could yield negative results. It also isn't as practical anymore.
If all we've been promised for 2022 comes to fruition, I'm not sure we'll need, or even want, a second tyre supplier. And if it ain't broken, there'll be no reason to try and fix it.
If that proves not to be the case, and we're left with one-stop races and no substantive increase in the quality of action on track, then we might see the debate resurface. But for now, I don't think we'll have a tyre war come 2025, nor do I think we'll need one.
Featured Image Credit: Adam Pretty via Getty Images