Latest Episode | Cut To The Race Podcast
Over the last few seasons – and particularly in the wake of a fortunately timed red flag at Imola this year – social media has been awash with claims that Lewis Hamilton may be the luckiest driver ever to have raced.
So, how lucky is he exactly? Let's investigate.
The Good
The Briton has certainly caught a lucky break from time to time.
Imola has been especially kind to him over the last two years. In addition to the red flag which rescued him this year, he received a helping hand at the 2020 race from a well-timed Virtual Safety Car.
Hamilton was able to pit during the VSC period, allowing him to gain a net 10 seconds and steal the lead from teammate Valtteri Bottas.
A similar situation benefitted him at Silverstone and Sochi in 2019, both races ending with that familiar combination of the British and German national anthems.
Earlier that year, the controversial decision to penalise Sebastian Vettel at the Canadian Grand Prix propelled Hamilton to the top step of the podium, even if he wasn't parked next to the number 1 board… And more problems for the Scuderia – this time a mechanical failure for Charles Leclerc – helped him clinch what had appeared an unlikely victory in Bahrain.
Image credit to Sutton Images.
Whilst we're talking of Ferrari calamities, Hamilton also obviously reaped the rewards from the disastrous run to the first corner at Singapore in 2017 and Vettel's costly error in Germany a year later – both massive moments that swung the title battle in his favour. But whether mistakes by one party can be considered luck for their opponent is up for debate.
Obviously, over the years, there are many other times when retirements to others have seen him claim victory.
Bottas was unlucky at the 2018 Azerbaijan Grand Prix, suffering a tyre blow-out with just three laps remaining.
Mechanical failures put an end to battles between Hamilton and arch rival Nico Rosberg in Russia in 2015 and Britain in 2014.
As for this season, it is fair to say that Max Verstappen has had worse luck than his title rival. The flying Dutchman suffered a tyre blow-out of his own in Baku and – whatever you may think about the pair's clashes in Silverstone and Monza – he was an innocent victim of Bottas's foray into first-corner bowling at Budapest.
The relentless consistency of the Hamilton-Mercedes partnership through the hybrid era has meant that he is often there to capitalise when others falter, for whatever reason.
The Bad
Earlier in his career, Hamilton was not the polished article we see scooping up championship after championship today.
He had a reputation for doing things the hard way, either from self-inflicted obstacles or external factors conspiring against him.
Even in 2014, Bleacher Report described him as "a three- or four-time world champion trapped in the career of a one-title wonder, with luck – more often than not – at the root of his failure to scoop more accolades".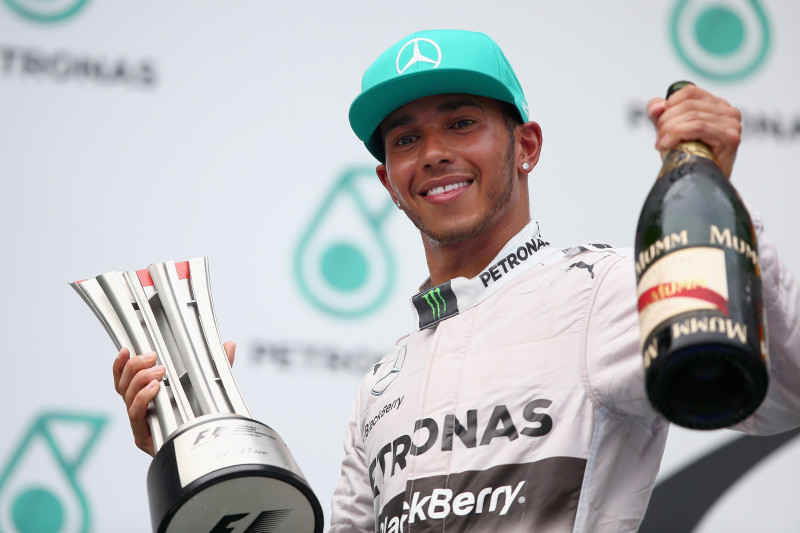 Image credit to Getty Images.
And whilst that was the year in which he finally scooped that elusive second title, Lady Luck still made him work for it.
The number 44 Mercedes retired with an engine problem just two laps into the season-opening Australian Grand Prix, immediately leaving him with a 25-point deficit to teammate Rosberg.
He won the next four races to claw back the gap and take the lead, only to lose it again in Monaco where, if we are to believe the German, it was purely bad luck to blame for his notorious trip down the escape road…
Further mechanical failures in Canada, Germany and Hungary – along with a race-ending puncture courtesy of Rosberg in Belgium – ultimately weren't enough to deny him the championship, but they certainly didn't make it easy.
And, if his second title was dramatic, it was nothing on his first. Of course, he infamously passed Timo Glock at the very final corner to regain that crucial fifth place, but a sudden deluge with five laps remaining when Hamilton had been in a comfortable position for the title certainly couldn't be described as lucky.
After three seasons without a championship – and a particularly trying campaign in 2011 – Hamilton vowed to return stronger than ever in 2012.
He followed through on that promise – seven pole positions over the course of the year demonstrating the speed that was clearly there – but forces beyond his control would derail his title bid at an alarming rate.
Image credit to Getty Images.
There were mechanical failures from the lead in Singapore and Abu Dhabi, and further issues in China, Germany, Japan and Korea.
McLaren also suffered a series of catastrophic pit stops, which ruined Hamilton's races in Bahrain, Monaco and Valencia.
Nico Hülkenberg took him out of the race whilst battling for the lead in Brazil. Romain Grosjean and Pastor Maldonado caused two further retirements.
And a fuel irregularity saw him demoted from pole to the back of the grid in Spain – but did give us a shock victory for a certain Venezuelan.
The Ugly
Hamilton has experienced two especially damaging pieces of misfortune that are the difference between him being a seven- and nine-time world champion.
First, in his rookie season, fate conspired to see him lose a 17-point advantage in the space of two races.
The incident that left him stuck in a Chinese gravel trap boils down to an error; arguably more so at the hands of the team, who left him driving on tyres that were worn down to the canvas, but an error nonetheless. He was blameless, though, as his title aspirations crumbled in Brazil.
First, in his rookie season, fate conspired to erase a 17-point advantage in the space of two races.
The incident that saw him stuck in a Chinese gravel trap boils down to an error; arguably more so at the hands of the team, who left him out driving on tyres which were worn down to the canvas, but an error nonetheless. He was blameless, though, as his title aspirations crumbled in Brazil.
Despite that mishap in China, a young Hamilton still held an advantage of four points over teammate Fernando Alonso and seven points over Kimi Räikkönen.
On lap 8, however, he suffered a gearbox problem and watched most of the field overtake him as he crawled up towards Ferradura.
After about 30 seconds, he managed to reset his car's computer and get going again but had fallen to 18th.
His recovery to an eventual seventh was not enough and he had somehow missed the chance to become the first-ever driver to secure the title in his rookie season.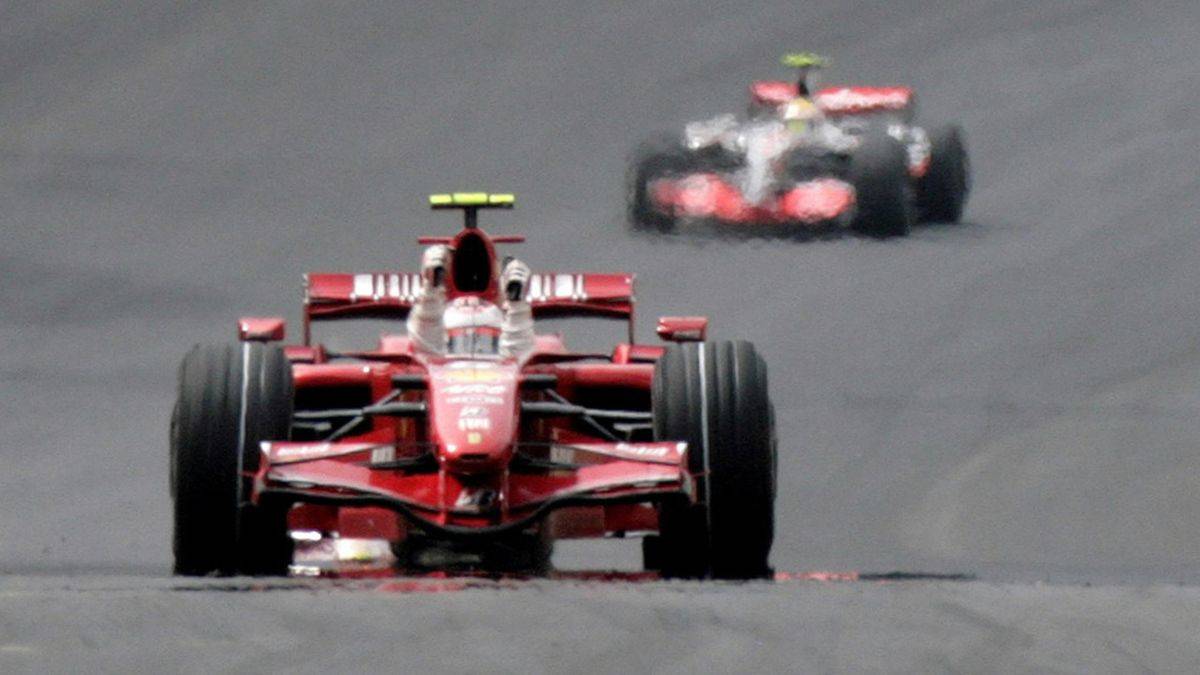 Image credit to Eurosport.
Nine years later, he was to be cruelly denied again.
The 2016 season was a tale of incredible consistency by Rosberg and horrendous reliability for Hamilton. Early in the season, two engine failures during qualifying – and being taken out at the first corner by future teammate Bottas – left Hamilton with a deficit to claw back, but by the summer break he had done just that.
However, those failed engines also meant he had to start from the back of the grid at the next race in Belgium.
After that, and a hydraulics fault in Singapore, he had lost the lead once again, but was looking good for a crucial win in Malaysia when we heard that fabled radio call of "Oh no, no" as Hamilton's hopes went up in flames.
From there, Rosberg didn't put a foot wrong and did all that was required of him to cling on to the title by five points, despite Hamilton's best efforts to make life as difficult as possible for him at the finale.
Image credit to XPB Images.
So, How Lucky Is He?
There is, of course, the old adage that you make your own luck.
Many times in recent years we have seen Hamilton avoiding unnecessary risk and taking as little out of the car as possible, clearly more interested in the long game and focused on the championship.
That perspective has come with experience – the younger Hamilton fought tooth and nail for every position and it often got him into trouble.
Hamilton can appear especially lucky because he is in the spotlight and, thus, every break that goes his way is highlighted.
Many fans are desperate for any result other than a Hamilton win after such a period of dominance, so when he lucks into a win or escapes a bad result, it can seem as though it's just another case of 'lucky old Lewis'.
But then occasions like Monza in 2020 – where Hamilton was unlucky with the timing of a safety car and being erroneously called into the pits lost him a certain win – are somewhat forgotten because Pierre Gasly's fairy-tale victory is (rightly) the main focus.
After all, how many drivers would be accused of having luck on their side as they crawled around on three tyres after a blow-out on the final tour, having led the entire race?
Ironically, it was Hamilton's year of appalling luck in 2012 that led him to take the leap to Mercedes.
So, considering the unparalleled success he has achieved as a result of that move, could it be argued that the bad luck was, in fact, good luck?
Fortune is a fickle mistress and one which is very hard to define.
Headline image credit to XPB Images.