On this day in 1950 Giuseppe Farina became Formula 1's first world champion, in the same year he won the sport's inaugural Grand Prix.
They say you never forget your first, yet despite being one of the sport's earliest icons, Farina's achievements are overlooked – fading into the history books of F1's bygone era.
Using excerpts from a brilliant article by David Tremayne at Formula1.com, we're going to look at just who exactly was Giuseppe Farina and why a man who is in every right an F1 legend is often forgotten.
Dr. Giuseppe 'Nino' Farina was born into the famous Farina coach building family in 1906 and lived an embellished life before he became a racer. He was a cavalry officer, footballer and skier in his early years before going on to claim a law degree and doctorate in Political Economy from the University of Turin.
1950 F1 season
Farina had established himself in European motoracing when he arrived at Silverstone for the first ever F1 Grand Prix racing for Alfa Romeo.
The Italian claimed pole and went on to win the Grand Prix in a somewhat fortuitous circumstance following his teammate Juan Manuel Fangio's mechanical retirement from the lead. That didn't matter to Farina, as he celebrated becoming F1's first victor in front of the 150,000 spectators – including His Royal Highness King George VI.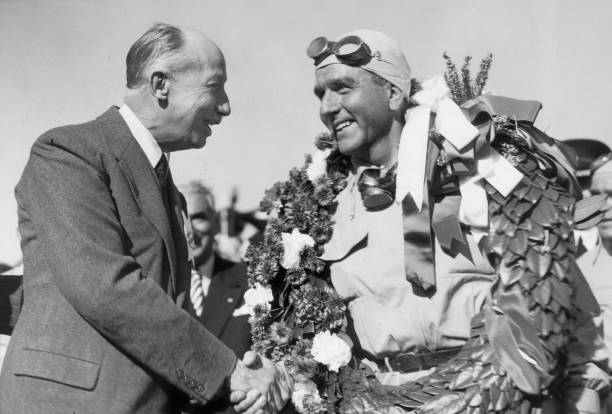 Credit: Popperfoto , Source: Getty
An intense season long battle commenced between Fangio and Farina, the Argentine leading by two points heading into the season finale at Monza. A dramatic race ensued at the theater of speed as Fangio's car suffered a gearbox failure, his teammate Piero Taruffi volunteered his chariot only for it to drop a valve and force the championship leader to retire.
This opened up the opportunity for Farina to take the victory, one that won him the first ever F1 driver's world championship – surely this remarkable season had cemented him as the biggest star of the sport's early era. However as history has played out, that status is somewhat equivocal. Why? One word – Fangio.
Overshadowed by an F1 great?
What will always loom over Farina's success in F1's debut season is that he benefitted hugely from Fangio's mechanical issues when claiming both the first ever race and title victories. Moreover, Fangio immediately bounced back to claim the championship the following year, Farina's unsuccessful title defense only resulted in fourth.
Fangio's incredible career saw him take the limelight throughout F1's early era, as he claimed a further four consecutive world championships between 1954 – 1957. Each of which Farina struggled to come close to challenging, as by the end of the 1955 season he'd retired from the sport.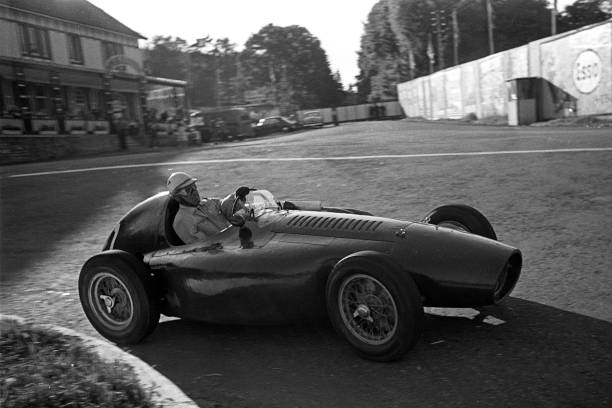 Credit: Bernard Cahier, Source: Getty
Before his departure, Farina had shown some downright abnormal bravery behind the wheel. Never giving an inch despite having suffered some huge accidents over the years – he even diced with Fangio over the lead of the 1954 Belgian Grand Prix with his arm still in plaster following a crash seven weeks prior.
The immensely proud Italian's ruthlessness and distinctive driving style held him in high regard amongst the greatest drivers of that time, Sir Stirling Moss actually adopted his straight armed technique.
However the mammoth success of Fangio ensured that Farina's talents and own achievements were overshadowed and almost lost in history.
Farina's Death
As written by David Tremayne, Fangio shared the popular view of the time that it was only the Holy Virgin who kept Farina's cars on the road. But on June 30, 1966, driving his Lotus-Cortina across the Savoy Alps en route to the French GP at Reims, he struck ice at Chambery and skidded fatally into a telegraph pole. It seemed that this time the Holy Virgin was looking the other way.
Headline Image – Credit: Keystone , Source: Getty