Latest Episode | Cut To The Race Podcast
Enzo Fittipaldi, Grandson of two-time F1 champion Emerson, is impressing during his first full F2 season. FormulaNerds sat down with him at Spa over the weekend.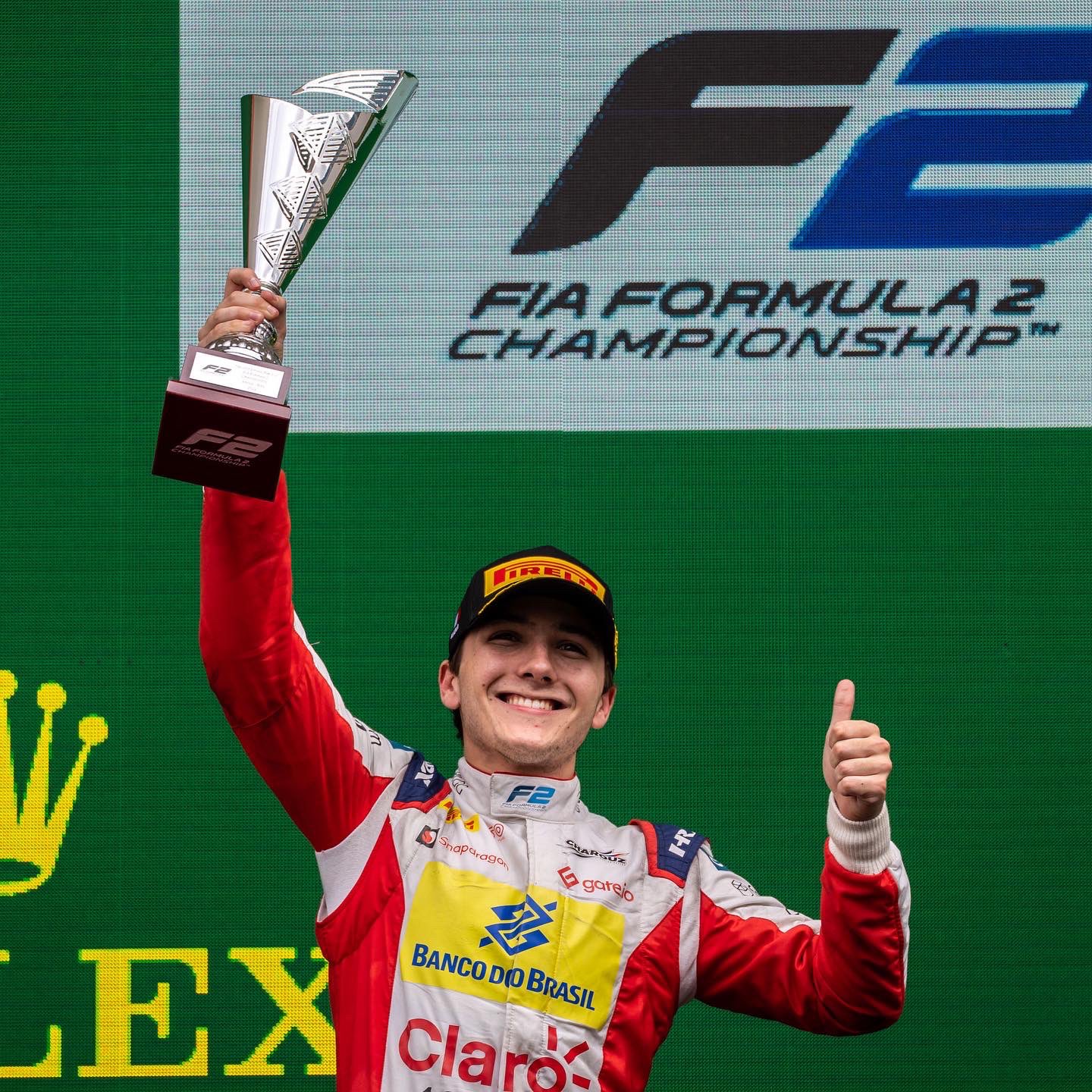 Affectionately nicknamed 'Little Shark' by his adoring fans, born in the United States, Enzo races under the Brazilian flag, like the rest of the Fittipaldi family.
The 21-year-old got his first taste of Formula 2 last season when he moved up from Charouz Racing System's F3 team from Monza onwards. However, his season was cut short at the penultimate round in Saudi Arabia in December, when an accident at the start with Théo Pourchaire saw Fittipaldi slam into the back of the Frenchman's stalled ART.
Due to the injuries he sustained in that incident, it was unclear if, and when, Fittipaldi would return to the series. A winter of uncertainty followed, but Enzo recovered in time for the start of the new season in March.
Still with Charouz, Little Shark went scoreless over the first five races of the season, but a breakthrough – and comeback – moment came in the feature race at Imola, in Round 3.
Fittipaldi came through the field to finish P2, having started a relatively lowly P15.
Four consecutive points finishes followed, before four more podiums during a hectic July, including one in both the sprint and feature race at the Hungaroring.
After the summer break, FormulaNerds sat down with Enzo at Spa-Francorchamps over the weekend of the Belgian Grand Prix.
A difficult start to the triple-header
Fittipaldi's weekend in Belgium started strongly, in Friday's qualifying he secured P2 on the grid for the feature race. After a difficult sprint race, things went from bad to worse for the Brazilian-American.
A difficult first lap saw Enzo slip back to P4. An impressive battle with Carlin's Liam Lawson ensued over the first half of the race, allowing both to showcase their wheel-to-wheel racing abilities.
Lawson ⚔️ Fittipaldi

Wheel-to-wheel, lap after lap!#BelgianGP #F2 pic.twitter.com/FG4m782vVU

— Formula 2 (@Formula2) August 28, 2022
After finishing P5 on the road, a penalty for leaving the track and gaining an advantage whilst fighting Lawson left Fittipaldi P10.
The application of the penalty could be considered questionable, given that Fittipaldi did give the place back, albeit a couple of laps later, due to radio issues between himself and his team.
However, the stewards deemed that by this point, Fittipaldi had gained a lasting advantage and stood by their decision to add 5 seconds to his race time.
The opportunity for redemption comes quick in Motorsport, and this week, F2 heads to Zandvoort – the mid-point of the triple-header. It's an opportunity that Fittipaldi relishes, even though he admits it will be "difficult".
"I never drove there, not even once. The only time I've driven there is on the F1 game. So, I have free practice to learn the track and it's a very difficult track, then I'll go straight into qualifying," the Charouz driver told FormulaNerds.
"But, one thing I know, for me, is that I learn tracks really fast – it was my first time in Monaco this year and we qualified in the top 5, so I'm not too worried about it."
Learning on the move
That ability to learn fast has served Fittipaldi well this season. When we sat down together, Enzo spoke of the F2 learning curve, and shed light on the factors that held him back over the first few races of 2022:
"It's my first year in Formula 2, so every round I'm learning something new. As a rookie, it's a big learning curve.

"As well, in the first two rounds of the season [in Bahrain and Saudi Arabia], I still wasn't 100% after my accident from last year.

"So yeah, that obviously held me back in those first two rounds, but after that, I got my podium in Imola and I was fully recovered."
Little Shark also credits the supportive working environment at Charouz when asked about the reasons behind his season taking off. The 21-year-old highlights the "great chemistry" he enjoys with the team. We "all work very well together" and the team are "amazing" to work with, Enzo says.
"We're just doing our job; we do our best and we see what comes out of it, and it's been very good. So, my goal is just to continue, focused, my head down, and keep pushing – and continue learning as much as possible.
"Every time I jump in the car I try and learn something new. So, that has been the goal since the start of the season."
"Never lose motivation"
When asked what the single biggest thing he'd learned so far this season was, Enzo shared that: "no matter where you're starting in the feature race, you can never lose motivation."
"Many times, this season I started outside the top 10 and finished on the podium," he explained.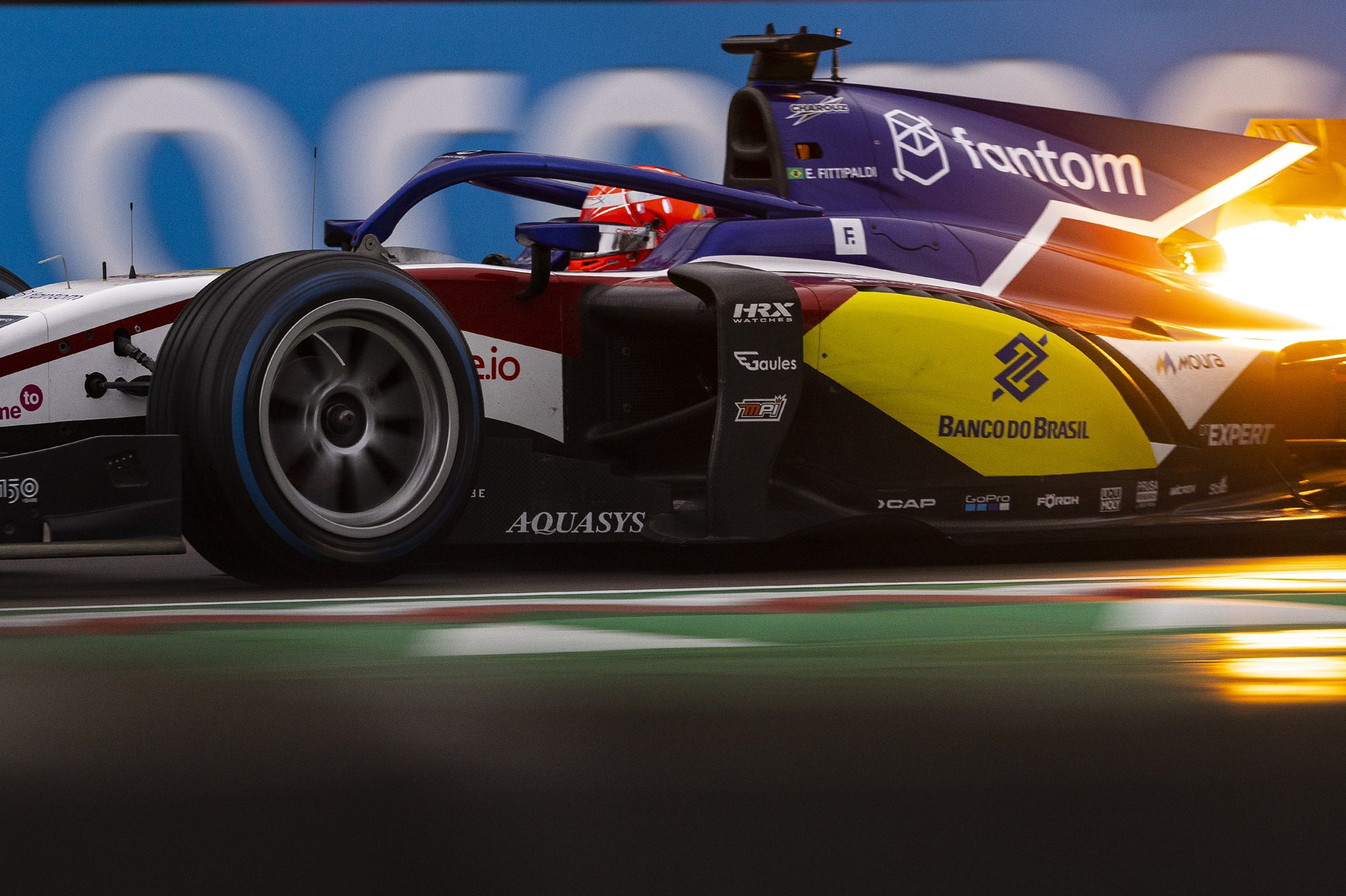 "It's just knowing that if you have good pace, you feel good with the car, no matter where you're starting from in the feature race you can always turn things around.
"If you don't have a very good qualifying session, just focus on the next race – have a good start, have a good race, because, in Formula 2, really anything can happen. It's very chaotic – the races – with strategy, with safety cars, so it is a lot of fun."
Fittipaldi underlined his point by adding:
"It's all about just keeping your head very calm and cool-minded throughout the whole season, trying to minimise the mistakes because a mistake in a championship like this can cost you a lot.
"It's very little track time, so every lap you do is very valuable for data for the engineers, so you need to make sure you're very consistent. And you need to make sure you hit your marks every time you get on track. So, that's the biggest thing I've learned this year."
The accident
Despite the horrifying incident off the starting line in Saudi Arabia last year, Fittipaldi hasn't allowed it to deter him. Instead, he's taken the positives out of the experience and used it as a catalyst for his increasingly impressive season.
"As a race car driver, you just have to understand that you're risking your life on a track going at these speeds," Fittipaldi explained.
"In my opinion, you can't be thinking about those things – even after the accident I had, I understand that there's always these risks, and that's the risks you take, so that's what it is to be a race car driver.

"Any track you go to, there's always the risks – any type of accident can happen. It doesn't matter how much safety you have, it's the speed you're going, you know, so the risk will always be there.

"I came out a much stronger person inside and outside the track. I'm just grateful that I'm here racing this year and I'm able to race after a crash like that. And I'm 100% and I'm better than ever."
Whilst he's put that crash in Saudi Arabia behind him, Fittipaldi acknowledged the pivotal part it has played in his early career, and specifically his first full season in F2.
Highlight of the year (so far)
When asked for his highlight of the season, Fittipaldi confirmed that it was "for sure" his podium at Imola.
"After the accident, I had last year [in Saudi Arabia], the deal I had with Charouz was last minute because I still wasn't sure if I was going to be ready for the start of the season.
"Charouz kind of held that seat for me and we were able to make the deal happen. I was able to speed up my recovery by four months – the doctors said I was only going to be in the car by July, so I really focused on my recovery and pushing a lot, everyday training.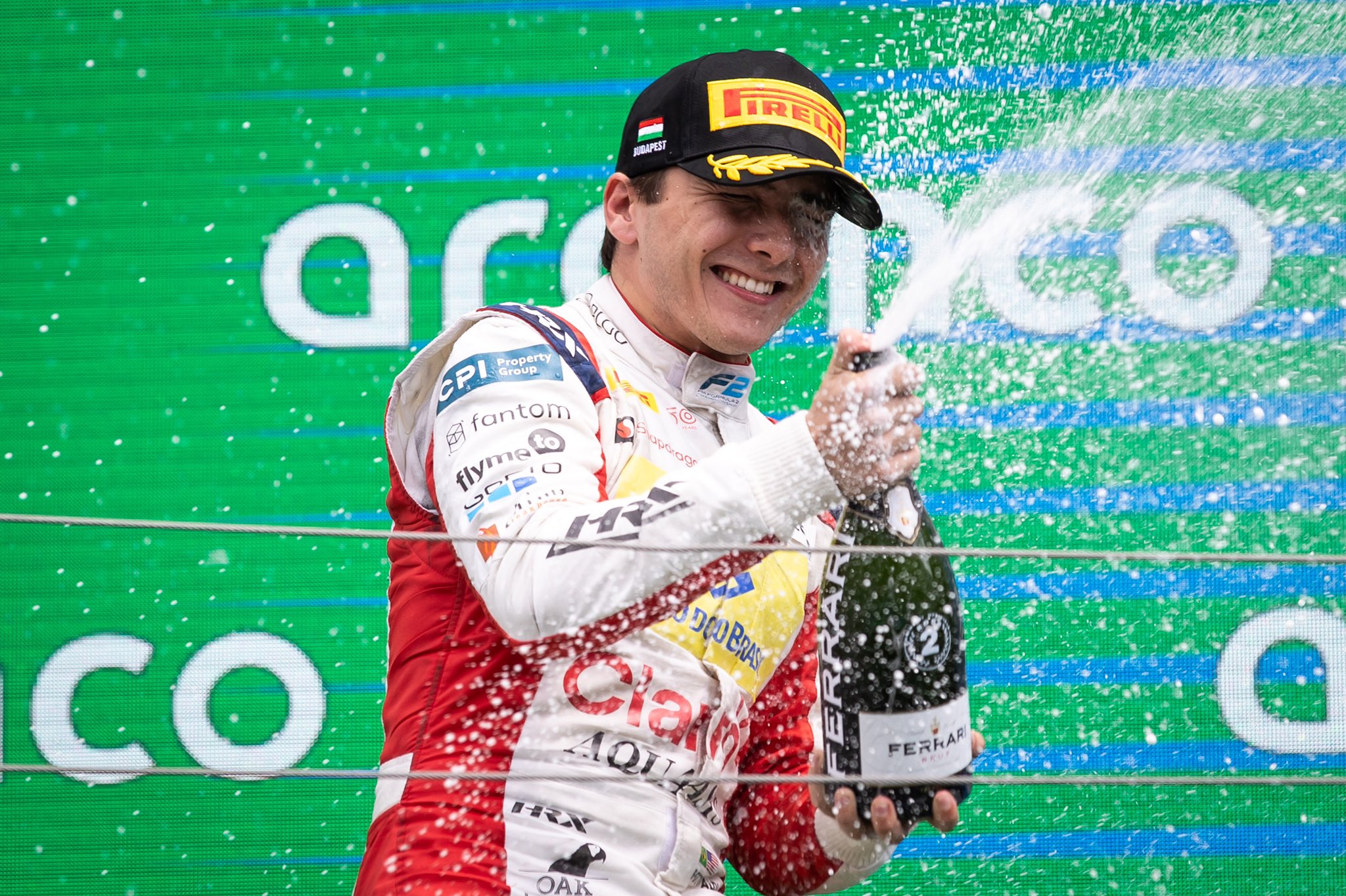 "And then my first podium in Imola, it was like 'wow', because it was just four months after I had surgery on my foot. So, it's just an amazing feeling, [after] all the hard work you do in the winter. And honestly, after the crash from last year, I really do think I came out a different person and I look at things differently now.
"So, it's been really good, but the highlight has definitely been Imola. The first podium of the year, from fifteenth to second [place]."
Making a name for himself
Steeped in history, The Fittipaldi name is a storied one in Motorsport. To some, racing under such a name would prove a daunting prospect, but not to Enzo, who says it doesn't come with any added pressure, nor does it change his approach to racing "at all".
"I mean, for me, I'm here to make a name for myself. The Fittipaldi name has a lot of history – so it's an honour to carry that name on track. And yeah, like I said, I'm here to make a name for myself and just do my best possible and see where it takes me."
It's still early days in Enzo's career, so it remains to be seen how far up the Motorsport pyramid his best will take him. However, in the short term, the Brazilian-American says he does not yet know his plans for 2023.
Whilst maintaining that it hasn't yet gotten to the point to talk about next year, Enzo did concede that he thinks he could end up doing another year in F2, but that right now, he's "not focused on that."
"I'm just focused on doing my job and doing my best every race weekend."
Featured Image Credit: @enzofitti on Twitter