Latest Episode | Cut To The Race Podcast
Martí and Mansell reflect on the potential of a 3-4 start for Campos Racing as they look ahead to the remainder of the F3 race weekend.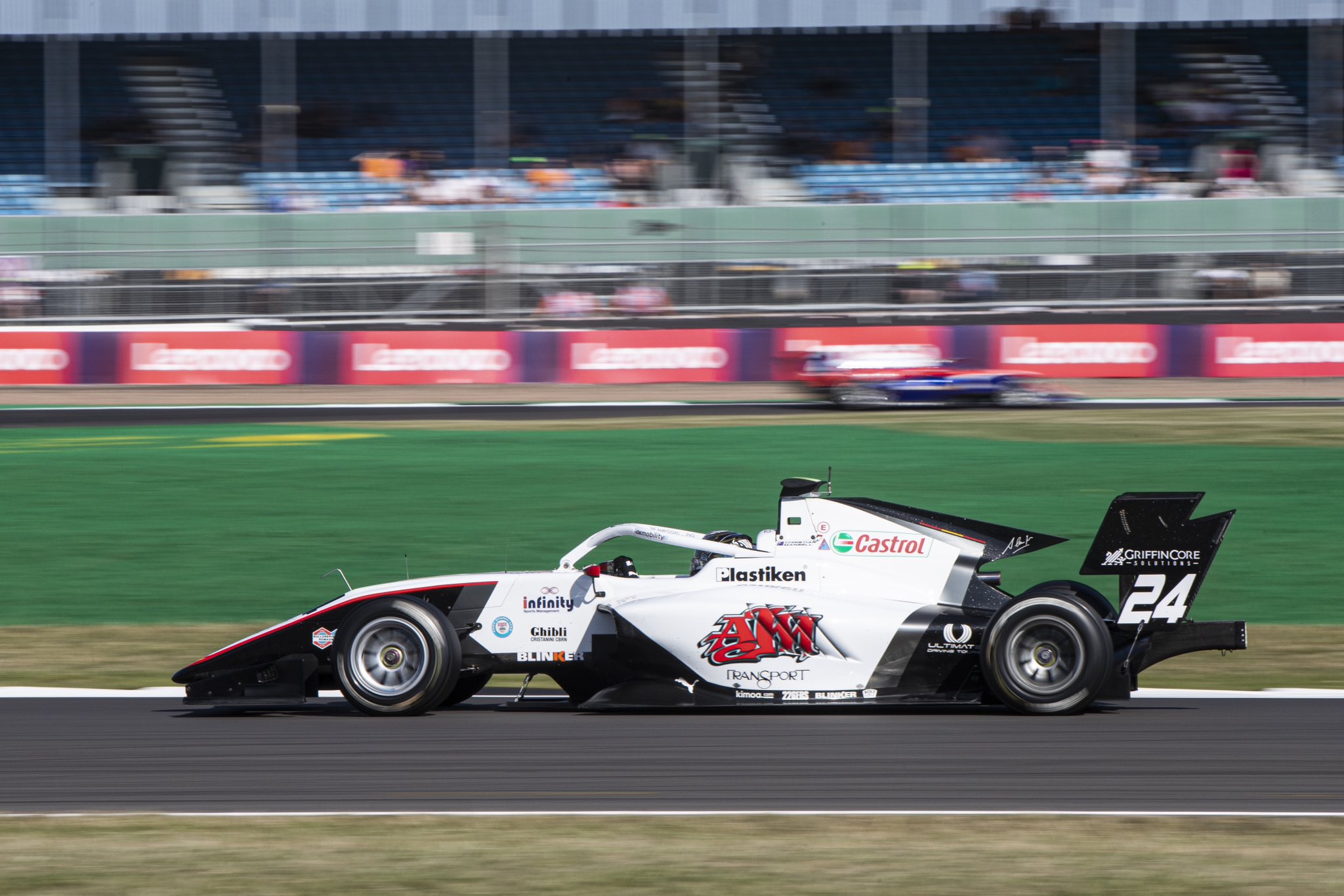 The front of the F3 grid sees teammates line up in pairs of two. Behind Trident's Leonardo Fornaroli and Oliver Goethe sits Campos drivers Pepe Martí and Christian Mansell. A mere 0.034s separate the two. Hugh Barter, who completes the Campos triad, wasn't quite as fortunate. The Australian driver will start from P14 on the grid. 
For Pepe Martí, who currently sits second in the championship standings, the strong qualifying result sets him up nicely for the remainder of the race weekend. Out-qualifying championship leader Gabriel Bortoleto provides Martí with the opportunity to close the gap. Silverstone could spell a golden opportunity for the Spaniard. 
For Christian Mansell, meanwhile, the result is indicative of the wave of great momentum that the Aussie seems to be riding as of late. Right off the back of his best F3 result yet – a P7 finish at the Red Bull Ring – he's gone and qualified P4. 
Qualifying in a nutshell ✌️😎✌️

P4 with a @CamposRacing third row. Podium this weekend? I mean…. I wouldn't say no if you're offering!

📸 Yours truly / @DutchPhotoAg#FIAF3 I #BritishGP pic.twitter.com/Pgi2JQE9ZJ

— Christian Mansell (@CMansell_Racing) July 7, 2023
Speaking to FormulaNerds after qualifying, Mansell seemed pretty pleased with the result. "From my side, it was really, really good," he said. "I was up there pretty much the whole quali. We're were in a good, really top 10 spot, and then on the last lap, I managed to bank P4."
"It sort of all came together from there," he continued. "I was really, really happy with it, to be honest. The team definitely did a great job. I took a step up myself, but yeah, quite happy to be also up there with Pepe as well. It's always nice."
Mansell spent qualifying rooted firmly in and amongst the top 10, often serving as a great benchmark for pace. In fact Pepe Martí shared that, in part, Mansell's terrific form in qualifying pushed him to up his game:
"[Christian] was in front of me throughout three-fourths of the qualifying session. So I was quite, I was looking at the timing charts, and I was like, damn, I have to push more. If the car can be up there. I need to be up there." 
"I was making a lot of mistakes," continued Martí. "And for the last lap, I saw him in my mirrors because I was carrying him around for every single lap. In the last lap I kind of pulled a really good lap together."
Carrying it forwards
The dominance of the Tridents is of little concern to Pepe Martí. Campos' pace in qualifying was a good starting point. Martí seems confident in the team's ability to capitalise on its strong pace, and take things one step further. 
"Obviously we're behind the Tridents, in P1 and P2, but now we know where the time is, we know how we can gain it," said Martí. "So it's not a ghost lap. We know the time is there and we know that we can be there, so I'm looking forward for the weekend."
A strong forward momentum is a theme here. Speaking on Campos' goals for the remainder of the weekend, Mansell said, "We pretty much just want to move forward as much as possible, as safe as possible."
"But I would honestly say I'm in a better position than Pepe," continued Mansell, who can likely make a couple more daring moves than Martí, who is in the midst of the championship battle. "I can sort of afford to get a little bit risky, whereas Pepe needs to, like, move forward." Mansell added:
"I'm in a good spot in that regard, I can kind of go in for a late lunge, whereas Pepe, he's gotta think more smart."
He continued, "He's up there in the championship, so your priorities change the further you go up."
The weekend's forecast
Track conditions were hot, with the track temperature around 41 degrees during Friday's qualifying session. Naturally, this opens up the question of tyre wear — but in this regard, Saturday is immensely helpful.
"I'm looking forward to seeing how the tyre can hold on," said Mansell. "That's going to be a very big thing for [Saturday]."
Martí was quick to agree, adding that Saturday "is going to be a test for Sunday". He continued, "A little bit what we did on Saturday in Catalunya, we knew that we started up ahead of Sunday, so Saturday was a bit of getting the car to do this, we look faster than these guys, or we look slower than these guys so we have to change some things and get faster, so that's pretty much the idea [for Saturday]."
Above all – plans for the weekend aside – there was a tangible sense of positive anticipation for the remainder of the weekend. Along with that, there was the feeling that no matter the outcome on Sunday, the team had achieved something to be proud of on Friday.
"I'm looking forward to, to be honest, both days," commented Mansell. "I'm really looking forward to seeing how it goes."
Martí echoed that sense of positivity. "I'm pleased to see two Campos at the front," he said. "That's so refreshing to see."
Featured Image Credit: Dutch Photo Agency