Latest Episode | Cut To The Race Podcast
What a difference 24 hours makes; Spa-Francorchamps was as dramatic as they get for Trident's Zane Maloney.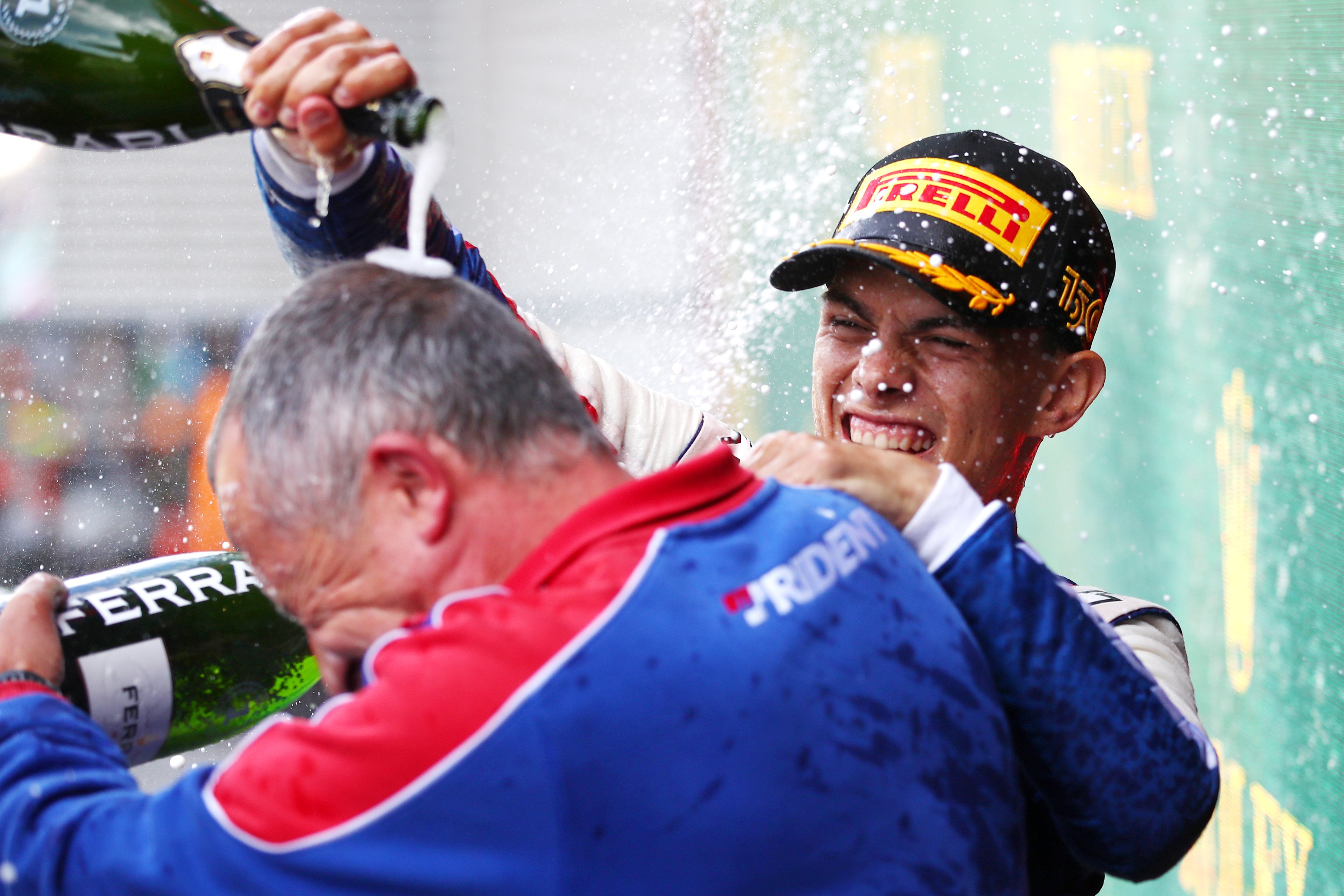 The Bajan driver's weekend went from highs to lows, to highs again in the Ardennes Forest.
An impressive P2 in Friday's qualifying set Maloney and Trident up well for a strong weekend, and they most certainly delivered. However, it wasn't without its bumps – and flips – along the way.
A scary crash with Campos' Oliver Goethe in Saturday's sprint race saw Maloney upside down after contact at Blanchimont, one of the quickest sections of the Spa-Francorchamps circuit.
Miraculously, both walked away unscathed. A night of rebuilding was required; mentally for Maloney, and physically for his stricken Trident – the 18-year-old's crew working wonders – and an all-nighter – to ensure the car was ready for Sunday's feature race.
The hard work paid off, and Maloney was able to bring home his first win in FIA Formula 3, thus becoming the first Bajan driver to win over an F1 weekend.
Continually thankful for the advancements in safety in our sport 🙏

Both Zane Maloney and Oliver Goethe were cleared by the medical centre after this heavy impact crash#BelgianGP #F3 pic.twitter.com/HwujIhsLlO

— Formula 3 (@FIAFormula3) August 27, 2022
After the race, he shared with FormulaNerds what that win means to him, and what a weekend of stark contrasts from his perspective.
"The boy from Barbados"
Maloney likes to go by the moniker "the boy from Barbados", and for good reason, he's paving a previously untrodden path.
"It feels amazing to be the first winner in F3 to be from Barbados," the Trident driver remarked.
"I've kinda come through the ranks, let's say in Europe, being the first one – obviously – to do these things, and to win races, and to get on the podium, and to even race in the championship."
Maloney doesn't let trailblazing affect him, however, saying that he doesn't really think about it at this stage. But that doesn't take away from the enjoyment of his success, and whilst the first, he doesn't hope to be the last:
"I'm very happy to be the first one and kinda paving the way for others and I hope that others in Barbados can see it's possible and try to make it up here as well.
"And from the Caribbean in general, I know we have a few people coming up and doing a great job and I hope to see them get to the top, and that's my goal as well, of course."
That first win
Whilst he looked the class of the F3 field on Sunday, and eventually cruised to victory, the race wasn't quite as straightforward from within the cockpit, especially in the opening phases, as told by the driver himself:
"The race was very difficult. Of course, the plan was to get a good start and hopefully still be in P2 up Eau Rouge, which we got done. But I wasn't able to make the move into T5 – he [Caio Collet] got a big snap of oversteer and we both had to cut the track. So, this made it a lot more difficult for me."
That incident caused Maloney to inherit the lead when he returned to the circuit. After pulling away from the field, the car adorning number 3 got told to give the place back to MP's Collet.
Talk about an exciting first lap of action at Spa! 😅🤯#BelgianGP #F3 pic.twitter.com/i1rmqSFkGq

— Formula 3 (@FIAFormula3) August 28, 2022
Maloney explained that he didn't want to risk a penalty, so complied with his team's orders immediately.
"I did it straight away, but I had to lose two places instead of one because Oliver [Goethe] got past," he added.
"The race was very difficult from this standpoint, but I knew that we had the pace – we had the pace all weekend and especially in race two.
"So, I bided my time, was able to get around both of them and kinda create a gap, and when Roman [Stanek] got by at Caio I was then starting to push a little bit harder.
"But the whole race was kind of under control and pushing at 90% to save the tyre, in case I needed it at the end if anyone caught me."
The quick recovery
If winning his first race in Formula 3 wasn't special enough, the intense conditions in which he achieved it most definitely made sure it was.
"The win was very special, especially with the circumstances on Saturday," Maloney agreed.
"The team did an unbelievable job to get the car back on track, far less a winning car. And they had no sleep, so the only thing I could really reward them with was a win or a podium.

"So, to be able to get the win the way we did and a 1-2, I'm sure the team are–we were very happy, that's for sure, and yeah, I can just thank them for the support and for everything they've done for me and especially for staying up all night to get the car back ready to go."
The boy from Barbados also shared that he had to re-gain his poise after his terrifying shunt on Saturday morning:
"My confidence was lacking a bit – let's say – Saturday night. I had to kind of, recompose myself and really try to forget about the accident because it was a very big one and sometimes it can play with your mind.
"So yeah, I had to try to be strong mentally and go out there and forget about the accident completely."
The crash
Maloney provided some insight into his race-ending collision with Oliver Goethe, which he described as "very strange from my side", whilst maintaining that he "understands fully" why his counterpart in the accident didn't see him:
"Roman [Stanek] was side-by-side with Oliver [Goethe] getting past him and he was ahead into the corner. I saw a gap on the inside, from quite early, even down the straight, so I went to the inside very early to show Oliver that I was coming on the inside.

"And obviously, he didn't see me because he was focused on Roman, which I can understand fully."
The Trident driver elaborated on the contact between the two cars.
"He turned in and obviously at that speed the smallest of touches will send you into the wall completely," Maloney explained, before adding: "You lose control of your car, so as soon as we touched, we both lost control."
Despite the scary moment, Maloney was measured in reflection and spoke to the bigger picture:
"I'm just happy that we could both walk away perfectly fine. After a big crash like that, we were both very lucky, so yeah, I'm glad that I'm healthy and he's healthy as well."
The boy from Barbados will be hoping to build on last weekend's successes at Zandvoort, whilst remaining safely right-side-up this time around.
Featured Image Credit: @FIAFormula3 on Twitter