Latest Episode | Cut To The Race Podcast
With Hunter Yeany still out injured, and Oliver Goethe unavailable, Campos turned to Sebastian Montoya for the F3 round at Zandvoort. He didn't disappoint.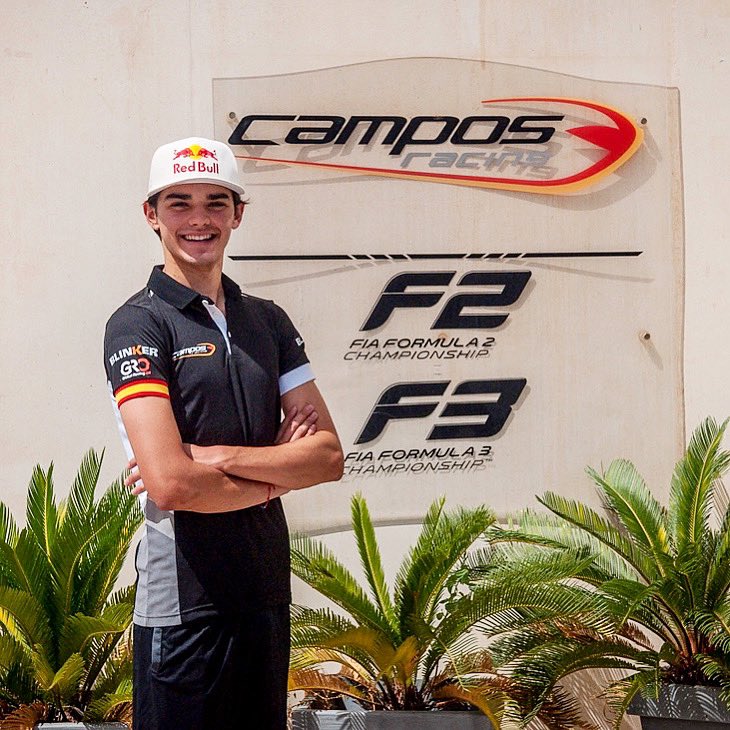 Campos Racing announced Montoya would be stepping into Hunter Yeany's car just a matter of days before the start of the Dutch Grand Prix weekend. With Yeany suffering a broken wrist in Austria and not yet ready to race, Oliver Goethe had been deputising in his place.
However, with Goethe returning to the Euroformula Open Championship, where he has a handy lead in the standings, Campos needed to bring someone in.
For Sebastian Montoya – currently of Formula Regional European Championship by Alpine (FRECA) – racing runs in his blood.
Son of former Williams and McLaren F1 driver, Juan Pablo Montoya, Sebastian hopes to follow in his father's footsteps and make it to the pinnacle of motorsport.
FormulaNerds caught up with Campos' newest driver across his debut weekend, and when asked about his work as a Red Bull athlete, and whether joining their young driver programme was in the offing, Montoya shared that they've spoken before, but it's still early days.
"We've talked before, but honestly, I think here we're just starting our relationship," he said.
"I think they really like the way I drive; they think I have good potential. So, I think it's a good way to start the relationship. Hopefully in the future, If I can race for them in Formula One it'd be awesome. So, we'll see."
Learning opportunity
When FormulaNerds first spoke to Montoya, on Thursday, he'd completed his seat fit and there was plenty of work still to be done – work that would see his team graft long into the evening to get the car in the best shape possible for Friday's free practice and qualifying.
Father and son 🥰

Seven-time Grand Prix winner @jpmontoya was on hand to keep a watch over @sebasmontoya58's F3 qualifying debut…

And he wound up an incredible P7! 😱#DutchGP #F3 pic.twitter.com/Nx9HVFKAS8

— Formula 3 (@FIAFormula3) September 2, 2022
Amongst it all, Montoya was keeping calm and level-headed:
"Honestly, I'm just using this as a learning opportunity. I think we have good potential and I think my goal is just to maximise that – just to do the best I can, work as well as I can with the team and just see what that brings," he explained when asked for his expectations and aims for the weekend ahead.
"I think if we work together, we have good possibilities to end up in the top 10."
Despite being confident about the car's pace and rightfully assured in his own ability, Montoya was maturely focusing on just having the best weekend possible, concluding with:
"I think it's going to be difficult, obviously, because I don't know the car, I've never driven the car – I actually did my first seat fit today. I think we have good potential, but I think the most important thing – and my personal goal – is just to maximise the weekend."
A solid if not specular P17 in free practice gave Montoya his first taste of the Campos. Qualifying followed later in the day. After getting an early push lap in during the final runs, Montoya found himself P7.
Fortune often favours the early in motorsport, and when William Alatalo brought out the red flag with less than a minute to go, P7 on the grid was secured.
Not knowing what to expect
With overtaking often near impossible around Zandvoort, much hinged on the launch of Montoya's first race start.
Understandably, he "didn't really know what to expect," as Montoya confirmed himself.
"It was my first start ever with the clutches, and yesterday in qualifying I stalled like three times trying to leave the box, so I didn't really know what to expect."
Under increasing pressure from PREMA's Jak Crawford, Montoya held his own, putting on a strong defensive display. FormulaNerds asked him to talk through the entertaining battle:
"I was trying to race as clean as I could. The tyres were already on the limit, so it was a bit on the edge, but I think we raced quite fairly – we didn't lose any more positions than what we had to.
"And yeah, it was honestly, for me, it was really good experience to be able to fight with him and be able to fight with Victor [Martins] – understand how the leaders are fighting and how they race, just so I can get an understanding of how I should race if I race here next year.
"So, it was quite good – a bit stressful, but it was fun."
Montoya successfully fended off Crawford to take P8 and point in his first FIA Formula 3 outing.
Father and son 🥰

Seven-time Grand Prix winner @jpmontoya was on hand to keep a watch over @sebasmontoya58's F3 qualifying debut…

And he wound up an incredible P7! 😱#DutchGP #F3 pic.twitter.com/Nx9HVFKAS8

— Formula 3 (@FIAFormula3) September 2, 2022
After the race, he told FormulaNerds that he expected to "struggle a lot more" but was "able to hold on" as the car was "really good."
Looking ahead to the feature race, Montoya said his aim was to take more points, but also move through the field.
"At the start I was a bit conservative because I didn't know what to expect. Now, I understand a lot more what I have to do."
High praise
When reflecting on his F3 race, Montoya had high praise for the Campos team around him. He was also critical in analysis of his own performance. Something that will undoubtedly hold him in good stead moving forward:
"The team did a massive, like a really good job helping me – we worked massively during whole week just to prepare me for the race, and I think that's the most important part.
"The car felt really good, which is quite positive. Maybe a few details here and there to work on. Obviously, my driving still needed to improve. But yeah, I think the pace we had at the beginning of the race was quite strong.
"For some reason, I actually thought we could pass here [at Zandvoort], which was really difficult because everyone's in the DRS, everyone's in the same slipstream, and we're all quite close, so passing wasn't really an option.
"I did a few mistakes and then lost the DRS, but then besides that, I think we had the speed just to catch up again to Victor, which is quite good because he's been fighting for the championship the past two years.
"It was honestly a really cool experience. A lot of things learnt, a lot of mistakes as well. So I think it helped me to get my mind around what to expect in the future, here in F3. And also, for tomorrow."
A big plus
Starting from P7 in the feature race provided another solid opportunity for points. Montoya duly delivered with another P8.
A quieter affair, with less TV coverage than Saturday's race, FormulaNerds asked Montoya to summarise his day.
"I didn't expect to finish in the points twice – it's a big plus," said the 17-year-old.
"The speed was really good. The balance was a lot better than yesterday – we were just struggling and some other things. So, it was kind of difficult, but a new experience and it really helped me to learn.
"And the way to manage the races, I think I managed it quite well with the safety cars and everything. It was my first time, and I think if I had a bit more experience, I could have capitalised a lot better. But it was good fun and it's a good way to wrap the weekend."
The weekend at Zandvoort might have been Montoya's first in F3, but it's unlikely to be his last.
Earlier in the weekend, when asked if he'd be looking to make the step up to F3 next season, Montoya was hopeful that he would be able to. After a strong debut in The Netherlands, he was still hopeful that he'd be in F3 next year come weekend's end:
"Hopefully – I would really hope so. I think with what I did this weekend, a few teams would be quite interested. So, just head down and then we'll see."
Montoya returns to FRECA for this weekend, with regular driver Hunter Yeany returning to his race seat for the season finale at Monza.
Featured Image Credit: @FIAFormula3 on Twitter