Latest Episode | Cut To The Race Podcast
PREMA's Ollie Bearman is having one of those weekends. Still in his debut F2 season, the 17-year-old is racing in Azerbaijan for the first time, but he's looked right at home in Baku.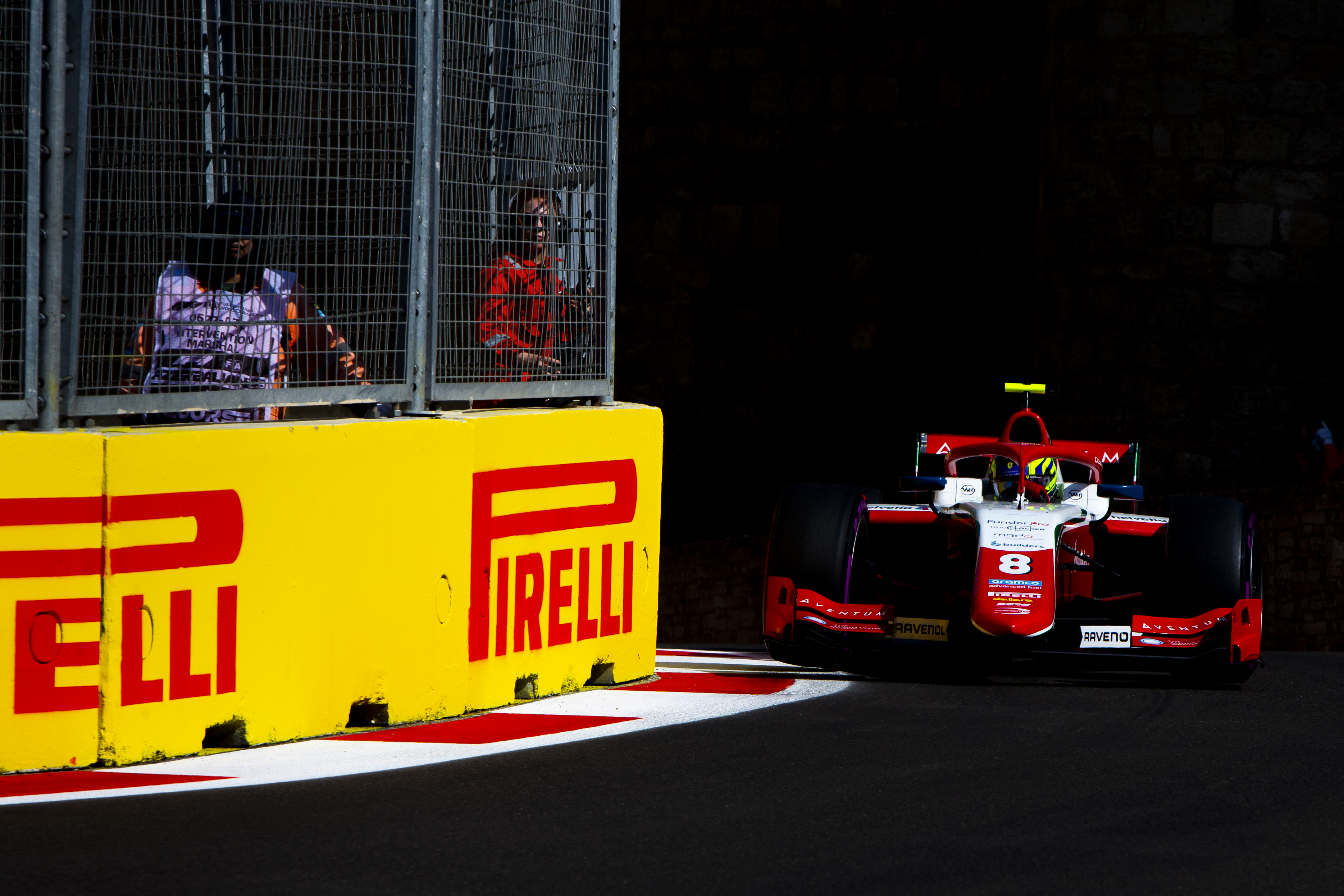 Heading into the weekend, Bearman was way down the order in the F2 Drivers' Championship, with a mere three points to his name. However, that was not necessarily representative of his underlying pace.
Truth be told, he's looked quick since graduating to F2 at the start of the season. Particularly in qualifying.
Race pace and race craft have come a little more slowly, but this weekend appears to be a tipping point for the young driver, who admits the car has been "really strong" since the start of the year.
"From my side, I haven't really maximised it. I'm getting better, but up until now I don't think I've got the best out of the package.
"We've seen that I've always been fighting up there in qualifying and there, or thereabouts, in the race," he said, speaking to selected media – including FormulaNerds – after the Baku sprint race.
With just Sunday's feature race left to run, it's been the perfect weekend for Bearman thus far. P1 and two championship points in qualifying followed topping free practice on Friday.
Ride onboard with Ollie Bearman for the lap that gave him his maiden Formula 2 pole position! 🤩👊#F2 #AzerbaijanGP pic.twitter.com/lxnvExfgaY

— Formula 2 (@Formula2) April 28, 2023
That form was succeeded by a charge through the field in Saturday's chaotic sprint race from P9 to take the victory. In the process, pipping teammate, Frederik Vesti, to the win by passing just before the race was neutralised by the safety car – a maiden first-place finish in F2.
To sweeten things further, Bearman also scooped the additional point for fastest lap, meaning he's scored maximum points so far.
Navigating the surrounding chaos 
Bearman did remarkably well to avoid the misfortune that became many of those who started ahead of him.
Heading into the race, Bearman admitted that the goal was to keep his nose clean, whilst preparing for Sunday's feature race with grand prix points on offer then.
However, strong pace allowed the No. 8 car to come through the pack and into contention before a late safety car provided further opportunity.
"It's nice to be fast in the race," he said. "It reminds me of being in F3 again, with PREMA, because it's the same thing – you can just pass everyone."
The correct result?
That final pass, for victory, could have been an area of contention. After the last – and chaotic – restart, which wiped out much of the field, Bearman managed to find a way around Vesti despite the impending safety car, which was seemingly deployed later than usual.
Timing doesn't get much more perfect than this.

Just SECONDS before the Safety Car effectively ended the race, @OllieBearman pounced on team mate @frederik_vesti to take the lead 👏#AzerbaijanGP #F2 pic.twitter.com/WOlVcr9WaF

— Formula 2 (@Formula2) April 29, 2023
Unsurprisingly, however, Bearman didn't mind one bit: "I enjoyed that," the Ferrari junior began.
"It was only a matter of time for the safety car to come out, so you had to act fast. I think it's nice, I wouldn't be mad if I was on the other side of that, because it's not dangerous – the crash is in turn one – we have a lot of time to slow down.

"So yeah, I have no problem with that, and of course I benefitted this time, so I won't complain."
Vesti agreed.
When asked by F1's Tom Clarkson what his first win in F2 meant to him, Bearman remained fixed on the grander prize on offer:
"It's just a sprint race, but yeah, it was nice to win. Next goal is the feature, so yeah."
It's a kind of magic ✨😍
Bravo @OllieBearman! #FDA @PREMA_Team pic.twitter.com/xHCadeojOQ

— Ferrari Driver Academy (@insideFDA) April 29, 2023
Bearman went on to add that he took more than just points and a maiden win from the afternoon: "You don't need to take crazy risks. If you have the pace, the race is gonna come to you."
Not the first, and likely not the last
Although far from over, the round in Baku is shaping up nicely for Bearman, who is no stranger to strong weekends and double podium finishes.
At Spa last season, he won the sprint race and finished P3 in the feature, despite only qualifying in P8.
In the season finale in Monza – and with the championship on the line – he carved his way through the field to take P2 in the feature race, after another P2 the day before. It likely would have been a win had a red flag not brought the season to a premature close.
The 17-year-old himself had already touched upon the pace he enjoyed with PREMA in F3, when FormulaNerds asked him what the secret behind his penchant for dominant weekends was.
"If I knew, I'd be doing it every weekend," suggested Bearman.
"But no, it's going well so far this weekend. I think in the past PREMA have had a good car here. And looking back to last year it's a similar story. The tracks we go well, obviously I was going better.
"The goal is to go well at all the tracks and we've been doing that so far, so let's try and keep that up."
It's not yet known what lays in wait during Sunday's feature race, but if Bearman can employ what he learnt from the sprint, he might just be able to take another double podium finish from Baku.
Featured Image Credit: @mndassoc on Twitter