Latest Episode | Cut To The Race Podcast
The Formula 1 title showdown this season is one for the ages. Max Verstappen leads the Drivers' Championship, but Lewis appears to hold the better hand. Their teams are only five points apart – less than the difference between a first and a second-place – so now is the time for Sergio Perez and Valtteri Bottas to earn their money.
It's fair to say, that most likely, that both Max and Lewis will be battling it out for the wins in the final two grand prix. They may well cancel each other out performance-wise.
That's why their teammates may hold the key to both titles.
Constructors' Championship
Red Bull getting consistency out of their second driver has plagued them since Daniel Ricciardo left, but it's a relatively new phenomenon to Mercedes. Save for Valtteri's underwhelming 2018 season.
Again, Bottas has been sub-par. Undeniably quick over a single lap, he's lacked the race craft to match and has at times found himself stuck in the pack, unable to dispense of slower cars ahead. His inconsistency has hurt Mercedes more this year than it did in 2018.
Valtteri has already paid the price; losing his seat to George Russell. Mercedes appear to be reverting to the strategy that fed the intense intra-team rivalry between Lewis and Nico Rosberg. But whether that will help or hinder them is another question for another day.
(There have been suggestions that Mercedes should bring Russell in early for the final two races of this season, but for now, we'll continue on the assumption that they won't.)
Red Bull had hoped to cure their second driver woes with the signing of Sergio Perez, but he's been poor on Saturdays and Max has too often found himself fighting without a rear gunner on Sundays.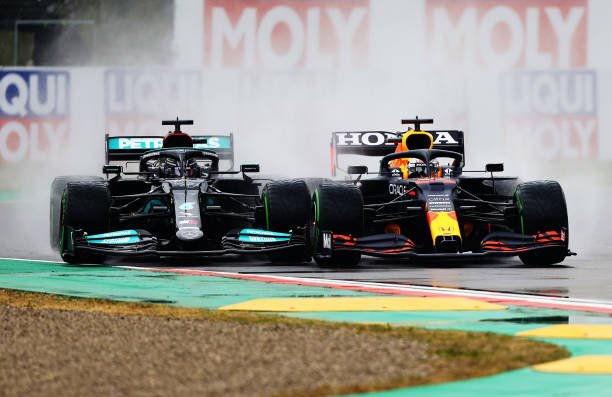 Image Credit: Bryn Lennon via Getty Images
It's not unreasonable to expect that Max and Lewis may well finish the season in a similar position to where they are now. With two races left, they may well divide the spoils with a first and second each. That leaves the Constructors' Championship to be decided by the performance of Perez and Bottas, and maybe even fastest laps.
Both drivers account for a lot of third and fourth places finishes, and that's perhaps the best you can expect given the standard their teammates are currently operating at. However, I can't help but look at the results and see a lot of valuable points that went elsewhere.
Can Sergio get it right across the whole weekend? And can Valtteri reignite his killer instinct? The answers to these two questions may well be the deciding factor between Red Bull and Mercedes come the evening of December 12th.
Drivers' Championship
Having inconsistency from your second driver doesn't just harm the teams' pursuit of the Constructors' Championship, it also hurts their teammates' fight for the drivers' crown. In a season contested between two teams on a relatively equal footing, strategy is king.
If you're battling your rival for the win, and their teammate is close behind, you're vulnerable to diverging strategies and pincer moves. Particularly if your teammate is nowhere to be seen. Having them in the mix is of paramount importance in being able to cancel out the decisions of the other team, or in forcing them into a mistake.
We've seen the use of divergent strategies to good effect this season: Mercedes were victorious in Spain, and Red Bull were equally impressive in France.
What we've seen less of, is the second driver further inflicting pain on the championship rival by bringing their car home ahead of them. In fact, the only team to secure a 1-2 this season has been McLaren. If either Mercedes or Red Bull can get this right in even just one of the final two races, that could be enough to secure the title for either Lewis or Max.
Saturdays may well prove to be the best chance at gaining an advantage. Outright pace trumps strategy here. A front-row lockout in qualifying could allow either team to protect their lead driver and control the race from the front.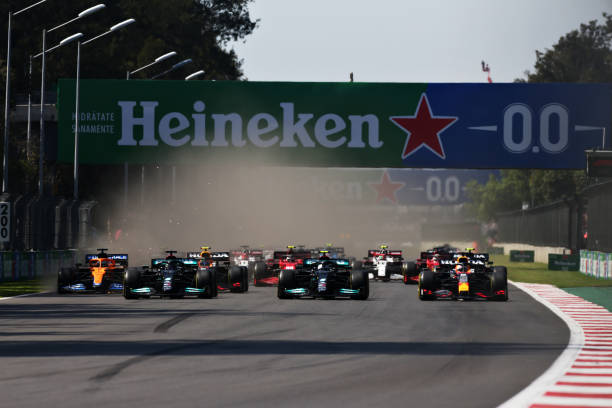 Image Credit: Peter Fox via Getty Images
We did, however, see Mercedes get this spectacularly wrong at the Mexican Grand Prix, but the run down to the first corner is considerably shorter in both Saudi Arabia and Abu Dhabi. If you can get a clean start, you should be able to dictate the tone of the race.
Perez needs to up his game in qualifying, not just for the team, but for Verstappen as well. Whilst Bottas needs to get his elbows out more to better protect Hamilton if Mercedes do find both drivers ahead.
We know Valtteri is capable of playing this role but is the motivation still there? And can Checo find the form that earned him his seat at Red Bull and take the fight to Lewis?
With the performance of the cars this close, and the stakes this high, we could be in for one of the most strategically intriguing season showdowns of all time. I can't predict which way it will go, but I have a feeling that either Sergio Perez or Valtteri Bottas will be kingmaker.
Featured Image Credit: Peter Kohalmi