Latest Episode | Cut To The Race Podcast
The Qatar Grand Prix was one of the most action-packed and controversial F1 weekends for some time, and there was plenty to take away from it.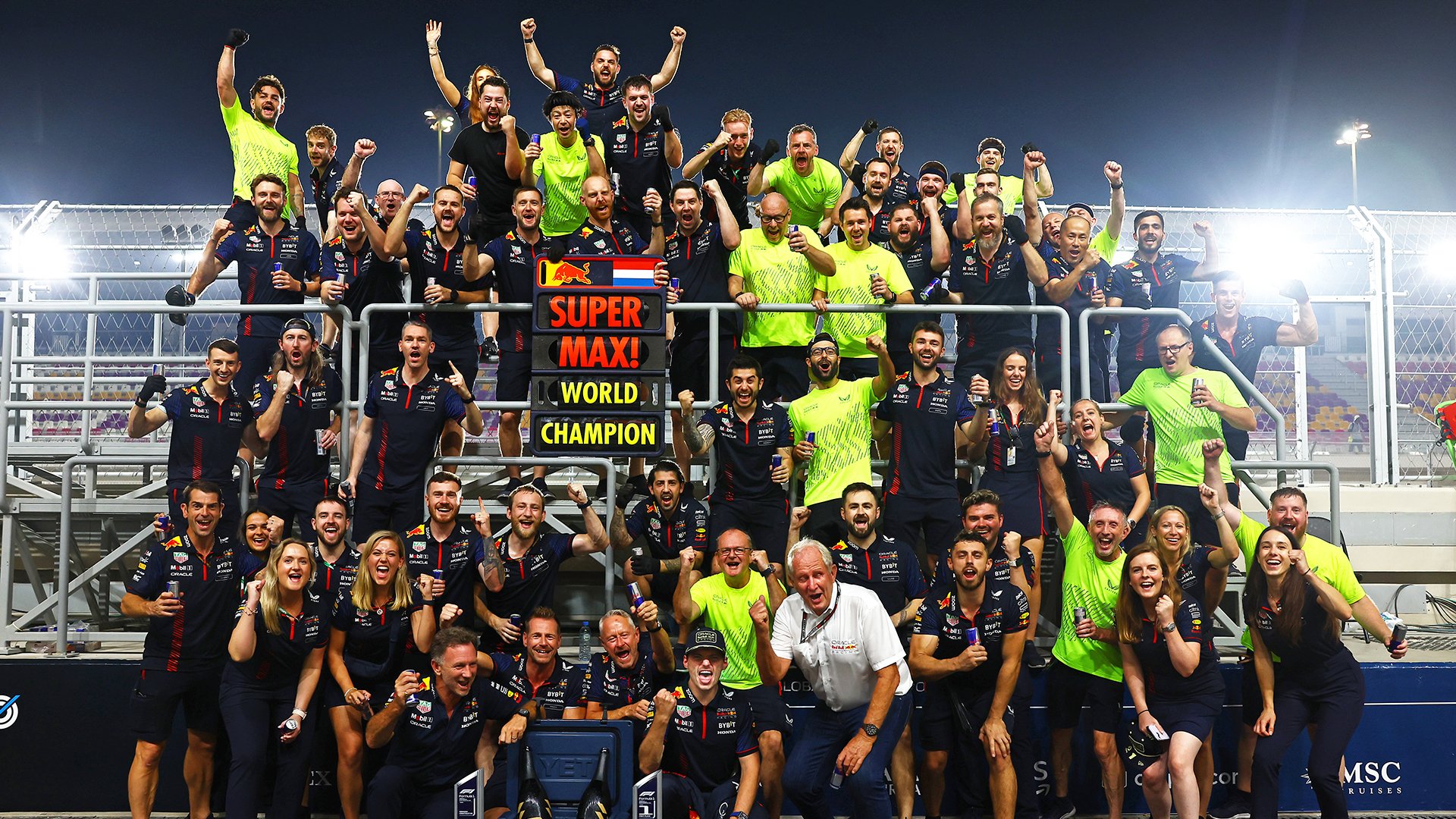 As I said in my race report for Sunday's much-discussed grand prix, it had already been an enthralling few days in Lusail, even before the frenetic – and now contentious – race got underway.
Unsurprisingly, there's much to discuss, dissect and delve into. It'll be a weekend that gets references and rehashed, for good reasons as well as the obvious bad.
We saw the crowning of a new world champion. An impressive feat, even if it came in underwhelming circumstances – Max Verstappen is only the fifth driver to clinch three consecutive titles in F1.
Mercedes showed yet again why Toto Wolff is such an important presence in the team garage. For the third weekend in a row, Lewis Hamilton and George Russell jostled with one another, this time actually coming to blows.
They're some way from Hamilton-Rosberg, and their relationship appears to remain strong, but it's not something Mercedes should leave unchecked for long.
You know it's been a busy weekend when a title being decided and teammates coming together don't make your five main talking points, so let's unpack my biggest takeaways from the Qatar Grand Prix.
Much-needed introspection
F1 has been in need of some self-reflection for a while, and now's the time for it.
It was a messy weekend from start to finish, which began with the tyre issue that needed to be managed between Pirelli, the FIA and F1 itself. No-one is predominantly to blame, but lessons need to be learnt.
Whilst action was taken quickly to make amendments to the circuit, the drivers were caught unaware, learning of developments from the media. Hosting a sprint weekend on a track that F1 hasn't raced at for a couple of years – and that Pirelli hadn't had to opportunity to check after a recent resurfacing – highlighted the need for F1 to be better prepared and more proactive in the future.
Then there is the decision to host the race weekend in Qatar in early October. Temperatures were high throughout and when the high winds subsided on Sunday, the humidity caused uncomfortable conditions for the drivers.
That was then combined with the mandated maximum stint length, which meant the race was run at a much faster pace than normal; essentially 57 qualifying laps, all at a high-speed circuit with only one straight.
This multitude of factors resulted in a grand prix that was ultimately difficult to follow and, more importantly, unsafe for the drivers.
Make no mistake, nobody is saying drivers shouldn't be pushed – if anything, F1 isn't the physical challenge it should be or used to be – but Sunday's race was too much. It was too far, and it was dangerous.
In the aftermath, the FIA are saying the right things, which is promising, but lessons badly need to be learnt from F1's perspective – this cannot happen again and measures need to be put in place to better identify potential risks before they come to fruition.
A star of tomorrow, today
Occasionally, you get the privilege of watching a star of the future, become a star of the present. And that's exactly what we were treated to this weekend.
Oscar Piastri has impressed throughout his rookie season, and as McLaren have improved, so has he. But this weekend was a real coming-of-age moment for the young Australian.
We all expected Piastri to be good, but I'm not sure many of us anticipated he'd be this formidable, this quickly – I certainly didn't.
This car. 🧡
This driver. 🧡
This team. 🧡

Amazing, amazing result! 👏#F1Sprint #QatarGP 🇶🇦 pic.twitter.com/uQuFqnDhKQ

— McLaren (@McLarenF1) October 7, 2023
What was different about the weekend in Qatar was that for the first time in his short F1 career, Piastri felt completely at ease and in control of the situation. He bounced back well from difficult moments – such as having his final qualifying lap deleted for track limits, which demoted him from P3 to P6 – and crucially, he learnt from it.
With the best achievable result in his hands, he executed and took the maximum possible from the weekend. That wasn't something he was quite able to do before, even in Japan when he took his maiden grand prix podium.
Rarely in sports do you get someone burdened with almost unreasonably high expectations exceed those expectations – think LeBron James.
Now, he's not quite the finished product just yet. It's just his rookie season, and he has a long way to go, but Piastri has all the quality needed to be a star in F1 for the next decade or two. This weekend proved that.
No zero-sum game for the perennial bridesmaid
There's often a narrative in Formula 1 that if your teammate is up, you must be down. That isn't always the case – sometimes it is, but not always. On a weekend in which Oscar Piastri established himself as a bonafide star in the sport, some were quick to point out the uncharacteristic mistakes by Lando Norris in both qualifying sessions, and the fact that Piastri beat him in both races.
That's somewhat disingenuous. Norris remains an elite-level talent in F1, and just because Piastri had the better of him – for the first time this season – it doesn't mean he didn't have a good weekend.
Yes, he had two track limit violations in qualifying which could have cost him in the race, but in both the sprint and the full race, he put in strong performances to take a pair of P3s. In fact, that's now four grand prix podiums on the bounce.
His race craft in the sprint in particular was a joy to watch, and he delivered his strategy on Sunday perfectly, thus erasing the damage caused by started P10.
It'll hurt that Piastri took a race win before him, and Norris has developed the unfortunate habit of being the bridesmaid – despite continually looking like the bride.
Carlos Sainz beat him in both seasons they were teammates and corralled that into a Ferrari seat, but he only marginally got the better of Norris in 2020, despite being vastly more experienced.
Then there was Daniel Ricciardo taking the race victory at Monza in 2021, even though Norris wiped the floor with him over two seasons.
But don't confuse correlation for causation here. Just because things haven't always gone in Norris's favour, it doesn't mean he isn't continuously showing that he's a future world champion week after week.
So long, Liam Lawson, we'll see you very soon
Liam Lawson didn't have his best weekend in an F1 car to cap off his likely five-race cameo in place of the injured Daniel Ricciardo. However, I don't think that matters when you consider his future place on the grid.
I'll be highly surprised if we don't see Lawson again, and I think it'll be sooner (2024) rather than later (2025).
Over his five races at AlphaTauri, the 21-year-old has done more than enough to show he can mix it at the highest level, but perhaps the biggest factor going in his favour right now is the sustained and enduring capitulation of Sergio Perez.
It was another poor weekend for him, which further plays into the prevailing narrative of the past few months.
Back in July, Christian Horner told me that Perez is the type of driver who needs an arm around the shoulder when things aren't going well. He reiterated that on Friday evening after Perez yet again failed to make it into Q3.
That stance, however, has started to shift – and quickly.
Seemingly unable to keep it inbounds during the grand prix, Perez racked up the most track limit violations en route to 15 seconds' worth of time penalties. If the pit lane start – for the extensive repairs needed after the sprint – wasn't his fault, only managing P10 in the race was.
Christian Horner said afterwards that he they "desperately need him to find form", and you get the sense that the approach to Perez is starting to change. Horner's comments tell me that Red Bull are starting to transition to their traditional driver-management approach, and public comments of this nature are the first step towards severing ties.
That would likely see Daniel Ricciardo promoted to the senior team, thus opening the door for Lawson at AlphaTauri.
Days numbered
Another driver who is living with increased pressure over their place in Formula 1 is Lance Stroll.
We know the uniqueness of his situation, and we know he is in his seat indefinitely due to his father's ownership of the Aston Martin team, but it's becoming ever more difficult for Lawrence to justify his son's place in the driver line-up.
More crucially, however, is that we're now seeing very clear signs that Lance doesn't want to be there, regardless.
Take or leave rumours and reports that Lance's mother wants him to quit, but what happened after qualifying wasn't acceptable and Stroll cuts the figure of someone who is unhappy and distressed in their current environment.
I'm not a psychologist, and I certainly don't know what is happening or being said behind closed doors at Aston Martin, but the tide is turning on Lance's career.
The injury before the start of the season can't have helped, but the existing delta between his performance and that of Fernando Alonso is not representative of any skill gap between the pair, despite the latter being a two-time world champion.
I've strongly defended Stroll in the past – and I stand by that, but something has changed. He's underperforming. With hindsight, being paired with Alonso was either going to make or break his career and unfortunately for Stroll, it appears to be the latter.
This isn't an issue in a vacuum, either. Aston Martin at risk of losing P4 in the constructors' championship to McLaren, after starting the season with the second-strongest car.
Stroll is the apparent weak link in the armour, and it's quickly approaching the point at which the team will need to make a change.
Featured Image Credit: @McLarenF1 on X