Latest Episode | Cut To The Race Podcast
The 2023 F1 season is off and running. In some respects, nothing has changed; in others, everything has. But what are five key take-home points?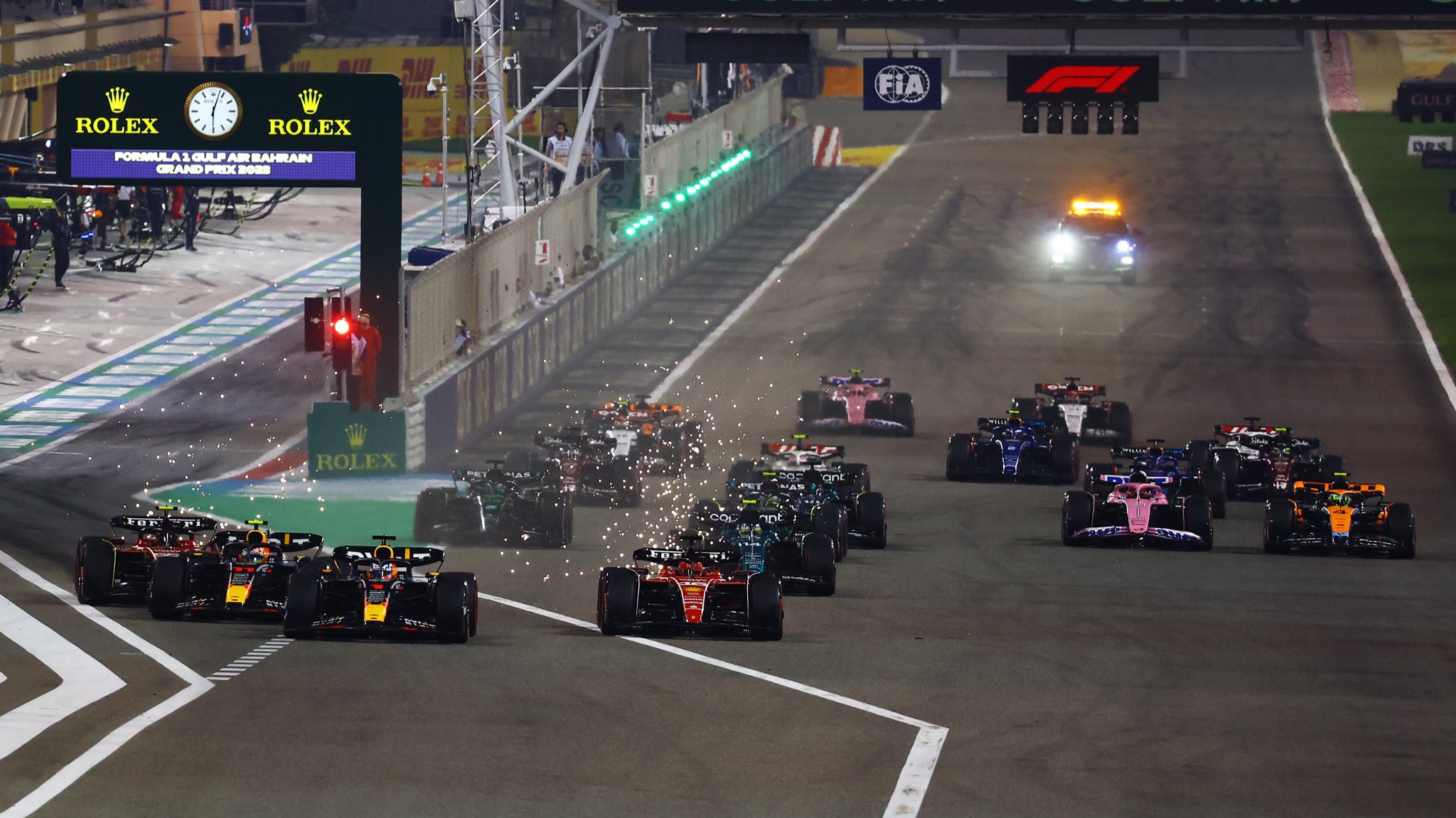 We're only one round through a 23-race season, but you can at least attempt to spot themes and plot the path of the year ahead, even after just one round.
It was a race that simmered away. There was no high drama at the front, but there was enough action further back to entertain. Not to mention, a surging Aston Martin team that appears to have really put the midfield amongst the top three.
12 months ago, Red Bull has a disastrous opening race to the season. That did not matter one bit when all was said and done; it's also a testament to how you can't necessarily look too far into one race in isolation.
Nevertheless, there are things that we have learnt from Bahrain Grand Prix. So, let's look at five of those takeaways.
Business as usual for Red Bull, Ferrari have work to do
Start as you mean to go on. Red Bull looked utterly dominant and comfortably took a 1-2. It's the first time the Milton Keynes-based team has won the opening round since 2011, so they'll take great satisfaction from that.
As mentioned, it's a complete contrast in fortunes from a year ago, but not from 2022 overall. Clearly, the Ferrari and the chasing pack have work to do.
We can only hope that the cost cap penalty affects the development race, but might Red Bull already be too far ahead of their rivals?
Super Max 🥇#BahrainGP #F1 pic.twitter.com/HhrYTX50dK

— Formula 1 (@F1) March 5, 2023
Only time will tell, but Ferrari will be expecting more out of Carlos Sainz in particular and hoping for better reliability from their power unit as well. Their car also looks to be heavy on its tyres, which will cause them issues at high-degradation circuits.
Unless things change – which they absolutely still can – could Red Bull, if not Max Verstappen, be looking at a 20-win F1 season?
It's a bold prediction, yes, but Verstappen is seemingly only getting better and Red Bull look to be in complete control.
Mercedes don't appear to have made the gains required
There was hope that Mercedes would be able to take a step forward over the winter, but Bahrain suggests they have not.
Invested in an approach to their car that departs from the status quo, is the potential ceiling for their concept ultimately lower than it needs to be?
It's hard to see where they can develop from here. Competing in the cost cap era means it'll be difficult to pivot away from the 'no-pods' theory. Nevertheless, they have to make ground on Ferrari and Red Bull quickly or abandon the idea altogether.
They started 2022 with the third-best car, and they ended the year that way too. But arguably, they look to have potentially fallen behind Aston Martin at the start of this season.
George Russell was beaten by an injured Lance Stroll and Lewis Hamilton looked no match for Fernando Alonso. Toto Wolff called it "one of the worst days in racing".
The hype train is real 
Speaking of Aston Martin, they appear to have comfortably taken a step away from the rest of the midfield, thus turning the top three into a top four. On race pace alone, Aston Martin may even be ahead of Ferrari.
Whilst there is still work to be done for aiming to battle it out with Red Bull, four teams converging at the top of F1 could make for a scintillating proposition.
Fernando was a man on a mission 💪#BahrainGP #F1 pic.twitter.com/fk12IgN0SR

— Formula 1 (@F1) March 5, 2023
Fernando Alonso looks very, very up for it and appears to have rolled back the clock almost two decades. On form and pace, he looks to be the only person that could touch Verstappen right now. As for Lance Stroll, once he's back at full fitness, there's no doubt he'll be looking to push those ahead even more than he did in round one.
Aston Martin's jump, or rather leap forward, does mean that points will be scarce for the pack behind. In races where none of the top four have issues, there may be a maximum combined four points on offer for those fighting it out for P9, P10 and fastest lap.
Come the end of the season, there could be an almighty drop-off between fourth and fifth in the constructors' championship. Even Alpine, who likely have the fifth fastest car at the moment will struggle.
Backmarkers no more?
Although still early, Williams looked significantly better than predicted. Alex Albon impressed en route to P10 and an opening round point, whilst debutant teammate, Logan Sargeant, looked at home in F1 machinery, only finishing a few seconds further back in P12.
Logan Sargeant was pretty happy with his F1 debut ✨#BahrainGP #F1 pic.twitter.com/ajAk4l5VQf

— Formula 1 (@F1) March 5, 2023
With Williams looking like they've made it into the midfield, F1 could be looking at the end – or at least a temporary suspension – of the frontrunner-midfield-backmarker norm.
Compounded by Aston Martin's gains, this could create a two-tiered system with a fiercely competitive F1.5 behind the top four teams.
McLaren and Alpine are probably in their own little midfield, truth be told, and could put a stranglehold on the final two points-paying positions across their collective four cars.
Starts dead last… climbs 11 places to ninth 📈📈📈

A truly awesome comeback from @PierreGASLY and @AlpineF1Team #BahrainGP #F1 pic.twitter.com/4yaBvdqxo3

— Formula 1 (@F1) March 6, 2023
Time will ultimately tell whether this is the case, and after a few races we may have found a new backmarker as well, but it would be nice to have those six teams, all within a second group, able to consistently fight for points.
Things are looking a bit messy at McLaren
A difficult pre-season testing was promptly followed up by a difficult first round for the Woking-based outfit. They endured a challenging opening weekend in Bahrain last year as well, but things couldn't really have gone much worse to start 2023.
After a disappointing qualifying session, Oscar Piastri's debut lasted only 14 laps as he was forced into retirement. By that point, Lando Norris was already managing a race-affecting issue which saw him have to adopt a six-stop strategy.
The good news is that if they can stabilise the reliability of their car, there's certainly pace in it. Maybe not Aston Martin-esque lap time, but enough to fight for Q3 and points.
Plus, if they find themselves in a straight fight with Alpine, Oscar Piastri will be as charged up as anyone as they look to better the team he so publicly rejected.
However, in order for that to happen, cleaner, more decisive weekends are required in Saudi Arabia and Australia.
McLaren can't wait until the European season to fix their woes, because if they do, it'll become increasingly difficult to keep their lead driver on side.
Featured Image Credit: @AstonMartinF1 on Twitter