Latest Episode | Cut To The Race Podcast
Recent events in Ukraine have brought a number of important issues back into focus in recent months, including sportswashing.
With Formula One in Saudi Arabia this weekend, it feels like an appropriate time to take a considered and measured look at whether F1 has a sportswashing issue, and if so, what can be done about it. This is not to suggest that sportswashing hasn't been a problem for a while. It has. But, with a spotlight comes attention.
It is not often that we tackle topics of such severity in sports. So, to do this justice, Samuel Coop and Grace Robinson have combined to co-write this piece.
What is sportswashing?
To best analyse this issue, it's important to understand what sportswashing is. Most know already, but it is essentially the use of sports in an attempt to improve a tarnished reputation. The practice is usually undertaken by nation states to mask human rights abuses and inequality.
For those governments, the benefit is often twofold. It presents an acceptable face outwards, in order to add international legitimacy. it's also used inward, to wield authority, coerce, and increase popularity amongst the people it governs over. It is widely accepted that sportswashing is a form of whitewashing.
The wider context
The purpose of this article is in no way to make a political point outside the immediate remit of the sportswashing issue or to imply an 'enlightened West', but it is pertinent to acknowledge the wider socio-political environment and the sensitivities around this. 
The West has a long history of neo-liberal interventionist foreign policy, during which western values are often forced upon other cultures. It is all too common for western arrogance to dictate that countries should become similar to them, and attempt to impose their way of thinking. That is by no means the intention of this piece. There are numerous nations outside of the West that hold equality and human rights dear. 
However, it is important to understand that human rights abuses and inequality exist on a wide scale. And many countries in which these atrocities take place also appear on the Formula One calendar.
Why now?
Sportwashing has been an issue within Formula One and many other sports for some time now. So, you may be asking why we've decided to talk about it now?
Following the illegal Russian invasion of Ukraine, the subject of morality and principles within sport has been at the forefront of the social consciousness. There is a growing belief that all sport needs to be held accountable for investing and participating in countries with a track record of human rights violations.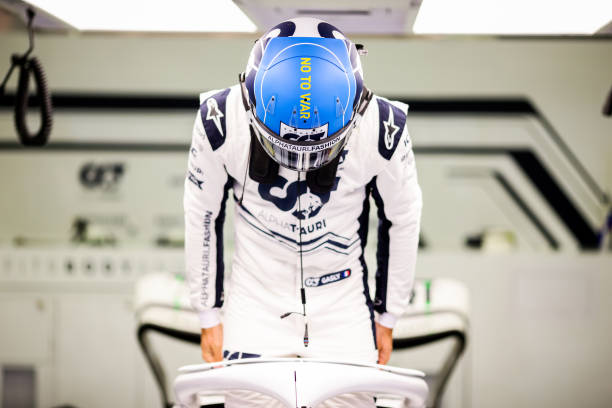 This is why we have seen a swathe of companies and federations pulling back from ties to Russia in recent weeks. Simply put, the association has become unacceptable to many fans and stakeholders around the world. But, it also begs the question, why hasn't international sport condemned similar abuses sooner?
Russia
Whilst Russia's recent aggression has been a catalyst, the country has long been condemnable for being staunchly anti-LGBTQ+ and for waging wars in neighbouring lands. Formula One first went to Russia in 2014 – Six years after their invasion of Georgia and mere months after the annexation of Crimea.
Russia hosted the World Cup in 2018 amidst now proven allegations of doping. Their state-sponsored doping programme was a poorly kept secret and has seen Russian athletes banned from competing under a Russian flag. All the while, the country continued to fairly openly commit state-sponsored crimes internationally.
It should come as a shock to no one that this has now escalated to the war crimes seen in Ukraine. And yet, Russia have still felt comfortable proclaiming their intentions to host the 2028 European Championship.
This isn't to list all the disqualifying things – depending on your view – that Russia have done, or continue to do. There are many, many more, from proxy wars to totalitarian laws. And everything between. 
The point is to highlight that even during known sporting impropriety, and much worse, they continued to be welcomed into the international sporting community to a more or lesser extent.
Recent events can and need to be, a pivotal point in the sportswashing conversation.
What are the options?
Broadly speaking, we live in a plural society, and there are multiple valid ways of tackling the same issue. When it comes to sportswashing, this very much rings true. Whilst it's more subtle and nuanced than this, there are two main schools of thought here. 
Do you go to countries with questionable records on human rights and equality, in the hope to promote equality and feminist values? Or, do you avoid and isolate? 
The advantage of the latter is you don't allow for sportswashing. There is also the hope that this method also affects positive change.
(By feminism, we mean the overall pursuit of equality for all. Across race, gender, sexuality, ability and more.)
In addition to Russia, it's important to look at other case studies on the Formula One calendar, to access which approach is appropriate and where. 
Saudi Arabia
This weekend marks the second Saudi Arabian Grand Prix. The country is known for an appalling human rights record and history of mass executions. Just last month, 81 people were beheaded in a single day, which is the largest mass execution in modern Saudi Arabian history. 
It's estimated that between 2015 and now, there have been over 900 executions. On top of that, those who were executed were likely tortured and trialled in secret with no access to legal representation.
The death penalty is not unique to Saudi Arabia. The practise is legal in many countries on the Formula One calendar, including the United States and Japan.
However, this does not mean the international sporting community should turn a blind eye to Saudi Arabia and the long list of known human rights abuses. And when an F1 driver reveals they've received a letter from a 14-year-old being held on death row in the country, the sport has to take notice.
What was said last season?
Truth be told, the Saudi Arabian Grand Prix was a shock addition when it joined the calendar for 2021. Interestingly, when asked about the safety of the track layout, Max Verstappen said that F1 had "$90 million reasons to stay in Saudi Arabia". 
Although unrelated, it's telling of the state of the sport and illustrates the point of how much F1 benefits from being in certain countries. A mutual beneficial transaction is not controversial in itself. But it is when one half of the deal is to glean over mass abuses and inequality.
Many drivers have shared their concerns about racing in countries with appalling human rights records. One of the drivers who did take an active stand when F1 visited Saudi Arabia last season was Sebastian Vettel. 
In an attempt to advance progressive values, he held a karting race for women. And, he was outspoken on the issue of gender inequality. Another value he promoted throughout the season was LGBTQ+ rights when F1 visited Hungary.
Hungary
The Aston Martin driver used a special rainbow flag helmet for the Hungarian Grand Prix. He also wore a rainbow t-shirt and face mask prior to the race for the "We Race as One" tribute. All of this was in support of LGBTQ+ rights in the country.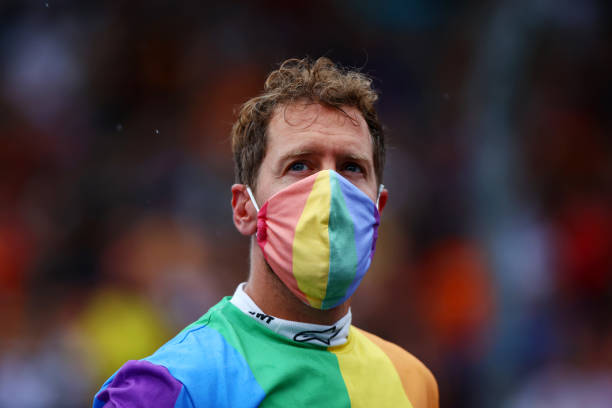 He received a reprimand for his actions, which highlights how serious the issue has become there. Hungarian Prime Minister Viktor Orban has effectively banned any education on LGBTQ+ rights as he has labelled it as "propaganda". He intends to hold a referendum on the issue later this year.
Those of us who are British might remember Section 28 and the widespread damage that policy has caused in the United Kingdom.
Other Examples
Just last weekend, Formula One was in Bahrain. The country poor history of human rights and equality. That didn't stop the sport from re-upping its contract with the Bahrain Grand Prix until 2036. Understandably, the sport was accused of ignoring the suffering in Bahrain.
China has been on the F1 calendar for as long as Bahrain and is another notable example. As noted on the Amnesty International Website:
"Freedom of expression is severely restricted in China and anyone who speaks out against the authorities faces harassment, arrest and detention. Torture is widespread across the country and justice is elusive for many."
Lewis Hamilton used his own rainbow helmet for the inaugural Qatar Grand Prix, in solidarity with the LGBTQ+ community there. Qatar is heavily invested in sportswashing in recent years. And, as we know, is set to host the 2022 World Cup later this year.
There have been widespread reports of atrocious working conditions in preparation for the tournament and accounts of passports being confiscated. It is somewhat ironic that Qatar is rumoured to be the replacement race for the now-cancelled Russian Grand Prix.
There are further examples that can be drawn upon from the F1 calendar, such as Azerbaijan and Abu Dhabi.
Conclusions
Grace: I believe that the involvement of countries accused of sportswashing in international competition should be reviewed on a case by case basis. Specifically with F1, if bringing the sport to the country can reasonable promote and advance equality, then it can be a force for good. However, if a country is too far removed from being supportive of human rights and equality, then the race contract should be reviewed. It shouldn't take a war to realise a country isn't aligning with the "We Race as One" or #racingunited values.
Samuel: I agree with Grace that these things need to be looked at in isolation. Each case is so unique that it would be unjust to not operate in this way. So yes, I'd conclude that F1 does have a sportswashing issue. However, it is important to acknowledge that sport can only do so much. It is also paramount not to overstep its boundaries, and appreciate where it can affect sustainable progress and where it cannot. Ultimately, cash does appear to be king, and F1 needs to be more disciplined here.
[Authors' note: Due to the events on Friday evening surrounding the Saudi Arabian Grand Prix, we want to stress the importance of not conflating the decisions taken by the sport and sportswashing. However, we recognise that the conflict in Yemen does tie into the wider conversation.]
Featured Image Credit: @lance_stroll on Twitter