Latest Episode | Cut To The Race Podcast
January is conspiracy theory season here at FormulaNerds. So, to mark the occasion, I wanted to share with you a theory that is so cynical, it just might be true.
We all love a conspiracy, right? Who doesn't? I want you to point them out to me – I just wanna talk.
(It's been a year since our F1's Biggest Conspiracy Theories podcast episode – which you can catch here. Part II is out on Sunday 23rd January, so be sure not to miss it. We publish all Cut To The Race podcast episodes to Spotify, Apple Podcasts, Google Podcasts, and Deezer, amongst others.)
Of course, there are those who love conspiracies because they've drunk the Kool-Aid, and there are those who love them because well, "they're a bit ridiculous, right?" The theories, that is.
Truth be told, when I first heard this theory, I laughed off, but then I gave it some thought and decided to dig a little deeper…
(Credit where credit's due – so a shoutout to my friend Sam for bringing this to my attention.)
The theory
The theory goes like this: Carlos Sainz Jr., who is backed by Hijos de Rivera Brewery, in Spain, doesn't get much television coverage during races because Heineken, who sponsor Formula One, don't like it.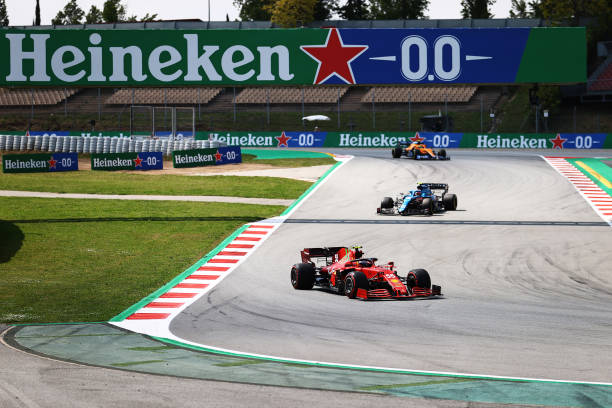 Image Credit: Bryn Lennon via Getty Images
It's important to note that Hijos de Rivera Brewery's main brand is Estrella Galicia, a lager. Their 0% alcohol version is often adorned on Sainz's clothing, helmet, and car.
Heineken are a considerably bigger company, so should they pick on someone their own size? But you don't grow a successful brand by being nice.
Could there be some corporate sabotage at play? It would hardly be the most controversial sponsorship-related conspiracy in modern F1.
The skinny 
We know that the Estrella Galicia brand has sponsored Carlos for a number of years now. The company's logo has been seen on Sainz's race suit since he entered F1. It also featured prominently on the Renault and McLaren cars during his time with both teams.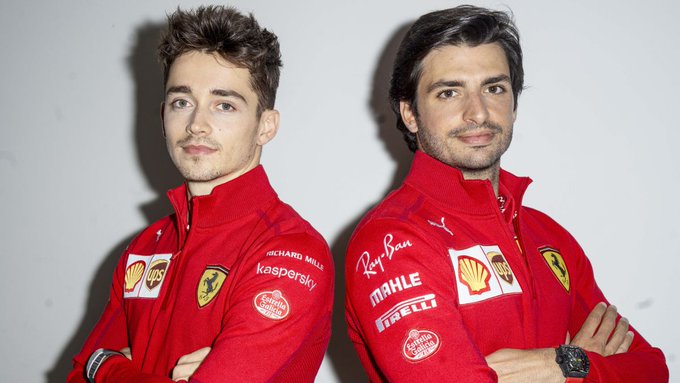 Image Credit: @velocidad32 on Twitter
We also know that Heineken has been a title sponsor and the official beer of F1 since 2016 – the season after Sainz joined the sport.
Does the theory have legs?
Well, funnily enough, it just might.
It has long been thought by many in F1 that Carlos receives less screen time than his peers. Whether it's still the case now, I don't know. I couldn't obtain any stats on driver-by-driver TV coverage. But it certainly was a thing.
In fact, back in 2019, when Sainz was racing for McLaren, it was confirmed that the team had held "several talks" with F1 about the problem. It was pointed out that his car was on the television for a mere 15 seconds during the 2019 Belgian Grand Prix.
Sainz even said, "I cannot get into it, but I know that the team and the sponsors are not happy with the situation."
Interesting…
What do I think?
Ultimately, we'll never know. But it's a fun theory.
I've always put Sainz's lack of airtime down to him being a solid, if not spectacular, driver. His career has been built on chipping away and surpassing often lower-than-fair expectations.
Then again, are expectations low because we never actually get to see him race? Did it take Carlos so long to be valued because of a shady by-product from his Estrella Galicia connection?
Remember, this is a man who beat the highly touted Charles Leclerc in his first season at Ferrari. Sainz is no slouch.
And whilst it's true that the top teams receive the wealth of television exposure – and Carlos hasn't always driven for top teams – it doesn't explain why this wasn't an issue for his teammate, Lando Norris, in 2019. The Estrella Galicia-Heineken theory could explain it…
On the F1's Biggest Conspiracy Theories podcast episodes, we like to rate the theories out of 10. I'd give this a respectable 8/10. It's not outrageous, and there is some logic to it. It's cynical yes, but corporate greed has been known to do worse.
Do you think this theory has legs, or do you think I've eaten too much Moon cheese? Let me know what you'd rate it out of 10, and why, in the comments.
Featured Image Credit: @FormulaTurkiye on Twitter