Latest Episode | Cut To The Race Podcast
"I had no brakes, no steering, nothing was working. I was just sitting there hurtling down the track with wheels hitting me on the head and cars going all over the place. There was nothing I could do except sit there and think 'where is this taking me?' It was not pleasant…" 
Those were the words of former F1 driver Eddie Irvine back in 2015 when he recalled the chaotic Belgian Grand Prix in 1998. A race which he stated was "a bit scary." A race which saw a 13 car pile up, a pit lane bust up, terrifying crashes and torrential downpours from start to finish. It is one of my favourite races.
If you listened to our recent podcast, we discussed what we felt made a great race. For me it needed to have a good balance of real racing, a touch of bad weather, strategy, and a few cars pushing it too hard and binning it. The 1998 Belgian Grand Prix had most of that.
It was round 13 of a 16 race season, and McLaren's Mika Hakkinen was leading the world championship, chasing his first world title. The Finn was just seven points clear of Ferrari supremo Michael Schumacher in the standings. In practice, the chaos had already started, with Hakkinen, Jacques Villneuve and Mika Salo all crashing out. Despite this, Hakkinen claimed pole with Schumacher starting in 4th.
First lap pile up
Despite the torrential rain on race day, there was no safety car start. All cars seemed to get off of the line cleanly until about 15 seconds into the race. "Oh, this is terrible, this is quite appalling, this is the worst start to a grand prix I have ever seen in the whole of my life." Legendary commentator Murray Walker did not hold back when we saw the incredible turn of events.
As Hakkinen led the race, and there chaos behind him when McLaren driver David Coulthard got it wrong on the exit of the first corner. He spun across the track, taking a number of drivers with him. He collected Eddie Irvine, Stewart driver Rubens Barichello, both Prost cars of Olivier Panis and Jarno Trulli, Sauber driver Johnny Herbert and Mika Salo in his Arrow.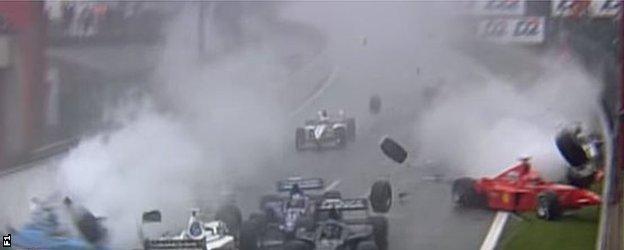 The Benetton of Alexander Wurz and Jos Verstappen in the other Stewart car are also caught in the panic, while Ricardo Rosset in his Tyrell was a latecomer to the incident.
13 cars are damaged in the incident. This was an era of F1 where the teams had a spare car kicking about the garage, so once the track was cleaned up and all drivers were deemed okay, the race restarted. All but 4 drivers were able to restart the race.
The Restart
At the green light, Hakkinen made a slow start and spun. Johnny Herbert then collided with him, ending both of their races. Alexander Wurz then collided with David Coulthard which left him at the back of the pack. Afterwards, a damaged Coulthard was being hunted down by Michael Schumacher. As they approached the 150mph Pouhon corner, the Scotsman had the racing line but backed off to let Schumacher pass. The German was caught unaware, and smashed into the back of the McLaren. The incident tore off the Ferrari's front wheel.
As both driver's headed back to the pit lane, Schumacher was furious and what ensued has gone down in history as an iconic moment in Formula One.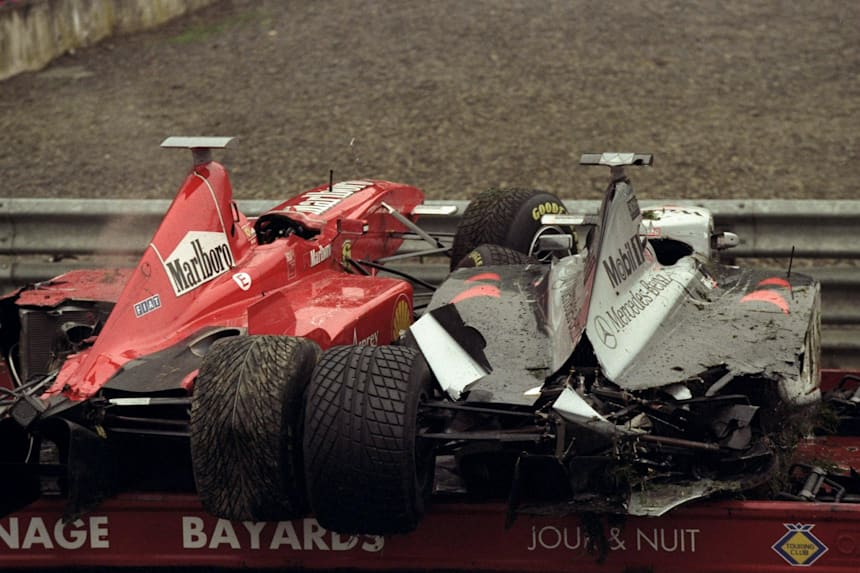 The Fight
Schumacher headed straight to the McLaren garage, looking for Coulthard. Assuming that the Scotsman had acted deliberately to help his team mate's chances in the championship, the German screamed "You tried to kill me!" at Coulthard, while he tried to grab him by the throat. He was held back by Ferrari's then sporting director, Stefano Dominicali.
Schumacher failed to see that it was just a racing incident when visibility was extremely poor. His mind automatically turned to sabotage on behalf of Coulthard.
The Unlikely Winner
With only nine cars still racing at this point, it suddenly dawned on everyone that Jordan were leading the race. The team had not had a win in 125 races, and suddenly they found themselves in a one-two position, with Damon Hill ahead of team mate Ralf Schumacher.
1996 champion Hill, was being challenged by his team mate for the win, but the conditions were still horrific to drive in. Knowing that a fight between them both could see this incredible win slip away, Hill radioed his team with a proposal.
"I'm going to put something to you and I think you better listen to this. If we race, if we two race, we could end up with nothing so it's up to Eddie."
The decision was made. Eddie Jordan enforced team orders and asked Schumacher not to make a challenge on Hill. The German reluctantly acknowledged this and backed off.  Hill took his 22nd victory, and the last of his career in a spectacular finish which saw Eddie Jordan skip down the pit lane in the rain, celebrating a maiden win, and a one-two, for the team.
There were only eight cars that finished the race, six of which claimed championship points. As well as both the Jordan cars, Jean Alesi in his Sauber took the final podium place from Heinz Harald-Frentzen in the Williams. Pedro Diniz in the Arrows was 5th, Jarno Trulli in the Prost was 6th, the McLaren of Coulthard was 7th and the final place went to Shinji Nakano in the Minardi.
Michael Schumacher was seething at the treatment of his younger brother with team orders and sought out Eddie Jordan after the race to complain. However, a week after the race ended, Schumacher and Coulthard had an hour and a half's private meeting to clear the air and to combat clearer guidelines for over taking and lapping.
Schumacher later admitted that Coulthard had done nothing wrong at Spa, but in 2003 Coulthard has stated that he lifted in heavy spray, something which a driver should never do.
It was one of the most memorable races ever and I never tire of watching it.
Image Credits: Still footage from formulaone.com, images from Getty Images/formulaone.com, Reuters and redbull.com