Latest Episode | Cut To The Race Podcast
W Series champion Jamie Chadwick has stated that she is "hopeful" of a strong result in her debut in Extreme E this weekend, as the inaugural all electric racing series commences in Saudi Arabia.
Chadwick, who is also the Williams F1 development driver, will be the designated female driver for the Veloce Racing team alongside the legendary Stephane Sarrazin as the championship commences on 3rd April. An experienced single seater racer, this will be the 22 year old's  first experience in an off road championship, and is eager to hit the ground running after undertaking an intensive pre-season training programme to learn the new discipline of the all electric SUV's.
"I'm just so excited to start racing in AlUla," said Chadwick. "This is massively different to anything I've done before, but I've trained harder than ever and spent a lot of time trying to understand the unique challenges this series will throw at us."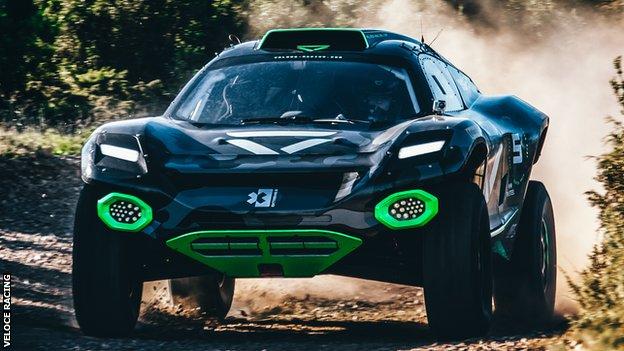 Image Credit: Veloce Racing
"It gives me a lot of confidence that I'll be alongside someone as experienced as Stephane going into an innovative championship like Extreme E with such unprecedented rules and sporting formats," she continued. "I'm hopeful of a strong result, straight out of the blocks, but I certainly don't underestimate the level of competition in the field. I think, ultimately, it's going to come down to who can adapt the quickest and learn how the series works from the word 'go'- none of us quite know how things are going to play out!".
With very little experience in electric cars, apart from two days of testing with Formula E, she explained that after trying out the Extreme E ODYSSEY-21, it was hard to draw on her Formula E experience as the two cars are very different.
Speaking to Motorsport.com she said  "The main thing with the Extreme E car, everything's so different. It's hard to draw any parallels with anything that I've done before,"
Everything you need to know about Extreme E
"The Formula E testing was really valuable, but that was very much about management and saving the energy over the course of the race. In Extreme E you go flat-out and make the most of what you've got for one lap, which is a completely different style of racing to anything I've done before anyway."
The Desert X-Prix launches this weekend in Saudi Arabia, as the all electric racing series commences in five different venues across the globe in a bid to highlight climate problems faced in the countries they race.
Extreme E co-founder Alejandro Agag has explained the reason why the championship is heading to Saudi Arabia, saying: "We chose to organise our first ever race in AlUla, with the aim to shed light on the threats presented by desertification. The magnificent sand dunes and breath-taking views of AlUla will represent the perfect backdrop to showcase the exploits of the innovative engineering masterpieces and the world class driving capabilities taking part in the competition."
Alejandro Agag quote: https://www.motorsport.com/extreme-e/news/saudi-arabia-launch-decision-explained/5974961/?nrt=6052
Jamie Chadwick quote: https://www.motorsport.com/extreme-e/news/jamie-chadwick-interview-veloce-wseries/5982494/?nrt=6052
Jamie Chadwick quote: Veloce Racing Press Release
Header Image Credit: Extreme E